Gareth Thomas in How Green Was my Valley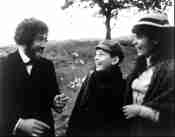 The BBC showed this mini series from December 1975 to February 1976 in six one hour episodes.

Gareth Thomas plays the fiery minister the Rev Mr Griffith (Rev Mr Gruffydd in the book) one of the leads.

This has been released by the BBC on Video.

Here are some reviews.
Review by Joyce Bowen
"How Green Was My Valley" (1975-6 BBC miniseries) thrilled me for five hours straight.

"How Green Was My Valley" aired in 1975-6 in the UK and the US (Masterpiece Theatre) as six episodes. This starred Stanley Baker and Sian Phillips as the head of the Morgan family, a poor family in a Welsh coal mining town at the turn of the century. My favorite actor, Gareth Thomas, plays the minister, the Rev. Mr. Gruffyd. He helps the family and their youngest son, Huw, (Huw is played by two actors) over a period of approximately ten years.

Just recently this August 2001, I sat glued to my TV set one afternoon as I played the entire 300 minutes or five hours on my multi-standard, having just received my PAL twinpack in the mail.

I remembered reading that Sian Phillips had said in an interview that this BBC version in which she starred was better, in her opinion, than the famous American movie and that it definitely was more accurate or truer to the novel by Richard Llewellyn. These 300 minutes are so packed with action, twists and turns of the plot, and layered development of characters that I have trouble even seeing how all this could be condensed into a mere two hours and still retain the impact.

The acting is top notch; no one gives a weak performance. The only compaint I have at all is that my PAL tapes have a few picture quality glitches in them which I don't know if this is just on my copies or if it's a basic problem with the masters because it's been 25 years since the show first aired.

If five stars is the highest rating I can give the show, it's definitely a five star show.
Review by Judith
I just got my tape of How Green Was My Valley and have watched the first episode now. I'm looking forward to watching the rest of it. Not only does it have a young Gareth, slim and bearded, but it's a damn good drama. This dates from the days when the BBC knew how to let a story tell itself. It's slow-paced and very well acted. The sets are few in number, but you tend not to notice because it's the characters who carry the story.

It's set in a Welsh mining village in the days when Wales still had a mining industry, and I suspect some Americans may well have trouble following the Welsh accents, especially in scenes set in and around the mines, but the domestic scenes are be pretty easy to follow. When in doubt, follow the music of the voices - Welsh accents do tend to sound wonderfully lyrical. You get your ear attuned after a while and then the accents become easier.

It's the story of a miner's family, especially the youngest son who was injured and unable to walk for several years. The family become close friends with the new preacher, played by Gareth, and events play out against the background of the chapel and the hypocracy of the elders.
Longer Review by Joce Bowen
I got my How Green Was My Valley twinpack of videos today and watched all five hours. I know I should have spaced out the viewing time more, but I couldn't resist. I have been wanting to see this show for five or more years. It's marvelous. Gareth has a great role, and he is in each of the five hours for a reasonable amount of time. He looking good as long as you like him buried under a ton of hair.

He is listed as ninth lead in most of the shows. But to me it seems that his role is bigger than that. Maybe that's because when he is on screen what he does is more significant to me than what some of the other characters are doing.

Everyone does a fine job of acting, and I really have no complaints about the show. And I had almost no trouble understanding the Welsh accent, except in a few places. I even liked it that Welsh was occasionally used as it gave a sense of reality to the show. And it didn't detract from the flow or the understanding of what was happening.

Gareth is thirty at the time and playing a man in his forties. Assuming that the show covers about ten years time or more, he is in his fifties at the end. They just added some talc to his abundant curls.

His voice is a joy to listen to and especially so when he is doing sermons.

Since I've never seen the American movie which is about two hours, I frankly can't imagine how it compares. The five hours allows enough time for the complicated plot to unfold and for each of the characters to be completely developed. The American movie must leave out an awfully lot.

I was surprised that Stanley Baker was so "young". Since he died six months after the show was done, I had expected him to be older.

It was a little odd watching a young Gareth play an older man and especially so when part of his reason for refusing the lady's love is the fact that he's something like 21 years older than she is. (He's probably all of five years older than the lady actress playing his love--if that!! She's no more 19 at the beginning than he is 40.)

Anyway, I have no complaints about the show and definitely recommend it to anyone who is a Gareth fan or to anyone interested in seeing a good old-fashioned period piece set in Wales at the turn of the century. Admittedly, neither group is a tremendously huge group. But I do believe non-GT fans can find a lot to enjoy in this BBC version of the book. Sian Phillips, for one thing, has a demanding role, and she is credible from beginning to end.

For anyone not familiar with the book, the story basically revolves around the Morgan family (Stanley Baker and Sian Phillips are Mom and Dad) and what happens to them and their children. When the story starts, all but one of the offspring are adults. Gareth plays the minister who helps the youngest boy as he is growing up, the boy being somewhat his surrogate son. And the minister falls in love with the boy's sister. She's in love with him, too, but because the story is set in a different time period than today there are obstacles to their love, besides the age difference. Although that, the age difference, appears to be the main obstacle.

One gets the impression that if the minister had been younger he would have been more willing to fight for what he wanted and to have been less considerate of what he thought was best for the woman he loved. Actually he gives her up precisely because he does love her so much. <sigh>

And it is a sweet sad love story even though Gareth doesn't even get one kiss from his lady love the whole five hours. Gareth manages to convey a wealth of emotion with just his voice and his face. Well, the writing helps, too.

There's a lot going on in the five hours. There are many subplots and various other entanglements of the heart happening. You will not be bored. I had actually expected to love it, and my high hopes were not misplaced.
---
Back to Gareth Thomas's other roles
Last updated on 07th of October 2001.