Posted 21st of December 2007
Kaldor City: Occam's Razor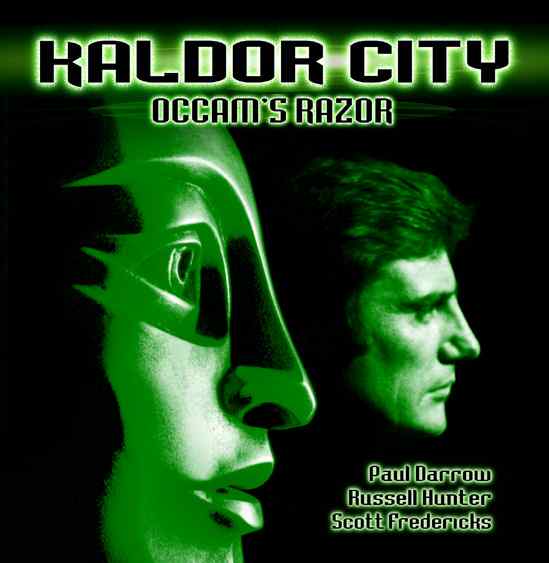 Cover of the first CD.

A review by Ray Miller

"I'm a rhubarb farmer...."

The writing of Chris Boucher on Doctor Who and Blake's 7 has always been highly regarded and, following on from Boucher's sequel to The Robots of Death, Corpse Marker (BBC Books), Alan Stevens - the brains behind The Logic of Empire, The Mark of Kane and Travis: The Final Act - has cleverly combined the worlds of Who and Blake's 7 in Kaldor City.

Giving the project great credibility from the very beginning is the impressive cast that has been assembled. It is a great coup to be able to attract the original actors who appeared in the BBC productions so long ago, and in Occam's Razor we have Russell Hunter reprising his role as Firstmaster Uvanov, and Scott Fredericks returning as psycho-strategist, and one-time paramour of Servalan, Carnell. Both of these characters appeared in Corpse Marker, but, when reading that book, it was never known that fans would get a chance to hear the actors breathing life into the characters again. As well as Hunter and Fredericks, science-fiction stalwarts Paul Darrow, Brian Croucher, Peters Miles and Tuddenham and the brilliant Trevor Cooper all appear, each of them giving first-class performances.

While retaining familiar elements from the previous stories, Occam's Razor chooses to concentrate on characters rather than taking the easy route of providing a story about murderous robots. Alan Stevens and co-writer Jim Smith weave a complex tale of murder, money, and political wrangling. This is a good approach for the story to take, as simply doing a re-hash of what has gone before would have been dull and repetitive, and would mean copying a mistake that has been made by writers of Doctor Who in the past. The story starts with members of the ruling Company Board being murdered in mysterious circumstances, seemingly for no apparent reason. In the Company-dominated Kaldor City everybody is a suspect... who is committing the murders, and more importantly, why?

Upon investigating the killings, Firstmaster Uvanov encounters the recently-arrived stranger Kaston Iago, played by Darrow. It is difficult not to be reminded of Darrow's role of Avon from Blake's 7, as outwardly the two characters appear to be quite similar to each other. Iago, though, seems much more menacing than Servalan's nemesis. Very much a man of mystery in Occam's Razor, Iago is a character whom it would be great to see again in a future play.

Of the other personnel, Russell Hunter steals the show as Uvanov. Playing a character that you last played nearly 25 years previously cannot be easy, but Hunter pulls it off marvellously and gives a superb performance as a suspicious and paranoid Uvanov (probably even more suspicious and paranoid than he appeared during the Storm-Mine affair). Just as he was in The Robots of Death, Uvanov is unaware of the circumstances that unfold around him, and has no idea who is friend or foe, treating everybody with the same degree of caution. It is a great coup for the team behind the story to have been able to seek out actors like Russell Hunter and get them involved with the play.

Also returning is Scott Fredericks, who first played Carnell in the Blake's 7 episode Weapon. Thankfully on audio we can't see his eye make-up from that story, but here Fredericks exudes the same oily charm that Servalan seemed to find so appealing. Manipulative and cunning, Carnell keeps his cards close to his chest at all times and nobody can truly know or understand what goes on in his mind as he appears to do with others.

Of the supporting cast Trevor Cooper returns to a Stevens-made play and gives a good performance as Rull which is slightly reminiscent of his Star Cops role of Colin Devis. His assistant Cotton is played by Travis 2 Brian Croucher, who always seems to relish his roles in these plays. Although the pair only have small parts in the action, they provide the main comic relief to the grave events that are being played out. Peter Miles is back too as Landerchild, another character who appeared in Corpse Marker. Other cast members include Patricia Merrick, who does a good job as Uvanov's assistant Justina.

Alongside the top-class cast and great plot, the post-production, handled by Big Finish technical wizard and long-time collaborator of Alan Stevens Alistair Lock, is very impressive. The play sounds great, and it seems like a lot of work has gone into creating the special sound and conjuring up the ambience of Kaldor City. The world of audio plays is really lucky to have somebody of Alistair's ability tweaking all of the buttons to make the plays sound good. The effects here (and on other similar work) is better than anything that you would find on BBC Radio plays.

Thankfully the play doesn't drag at all, and the sixty-minutes running time is perfect for a play like this. Any longer and there would be a danger of the audience becoming bored and the play seeming to drag, but an hour of action-packed adventure with plenty of nastiness is just about right.

Topped and tailed with a cool theme tune that thankfully doesn't sound science-fiction orientated at all and having a smart cover, Kaldor City: Occam's Razor is certainly a play to be owned and the potential is there for the series to continue for a long time to come. Here's to the next one!


Back to Kaldor City main page.
---