Recomended Fanzines for Blake
The Machiavelli Factor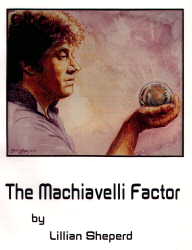 by Lillian Shepherd. Another of our most popular zines. People buy it for the beautiful colour cover of Blake, then recommend it to their friends because they love the story. Set after 'Terminal', this is a bold alternative universe story which seizes Avon, Cally, Vila, Dayna and Tarrant and takes them to another galaxy where they have to cope with the Machiavellian politics of an alien culture. Behind the scenes is Blake, struggling to gain freedom for a group who need it more than anyone he has ever encountered. Is freedom possible for a race genetically programmed to obey orders?
Questions of the Past
This is a realy good zine, especially for the get-Avon fan and the gen A-B fan. There's lots of juicy Avon-torture. In addition to having excellent content, the zine is attractively laid out.

<

Last updated on 21st of December 2007.