Jacqueline Thijsen
I've just recovered a little from Redemption, so here are a few of my impressions:

First of all, meeting all those lystians. Hellen was incognito on Friday, thanks to a badge that said Helen, but the other two days we could all recognize her. Everyone looked so different from what I'd imagined.

Ares dragging around a guitar, and later on proclaiming that he was going to take his ax back to his room to pick up his sword.

Gareth and Michael cheerfully taking the piss out of each other.

The high level of the discussions ("Well, I'm taller than you." "Yeah? Well I'm fiercer than you.")

Some really funny and also interesting panels, often both at the same time. Michael Sheard still telling "wee tales" at breakfast. He said he'd written a book. I wonder how he ever managed to *stop* writing.

Julia and Steve being everywhere at once.

And so were Sascha and Ivan, the steward masters. But they also managed to participate in some of the fun stuff. Don't ask me how they managed it. I suspect they made a deal with the clone masters.

A six weeks old girl winning a prize in the fancy dress contest with a galaxy quest outfit.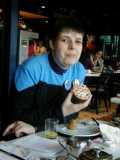 Seven of Nine with her kid (that six weeks old girl) participating in a parade drill, and the kid slept through the whole thing.
Spam. Lots of it.
Not being able to pretend later that I had a healthy breakfast, because Richard took a picture of me holding something very sweet with icing on it.
I'll try to post something more coherent this weekend, but at the moment this is all I can manage. Thanks to Judith, Steve, Sascha, Ivan and all those others who made it an unforgettable weekend.
Jacqueline
---
See also Long Report by Jacqueline Thijsen.

Back to the other Redemption '01 Reports