Gareth Thomas Interview in the Scotsman
Gareth was interview by Jackie McGlone of the Scotsman about Twelfth Night and other things.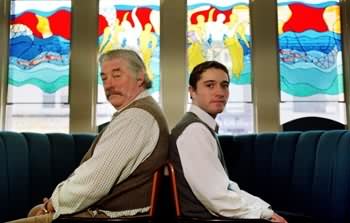 Shared experience: Gareth Thomas, is more than ready to pass on 35 years of thespian advice to 21-year-old Kieran Brown, for whom Twelfth Night is his first professional Shakespeare. Picture: David Moir

SOMEONE once asked Gareth Thomas, the Blake of Blake's 7 , the cult 1970s space programme, what it was like to be a leading man in a TV sci-fi series. He was, after all, once Britain's heartthrob answer to Star Trek's William Shatner, only with all his own hair.

"It is," he mused, "a bit like farce. It's real people in unreal situations." Just like Shakespeare then? "Oh yes", replies 54-year-old Thomas, a handsome man of Falstaffian proportions who would have trouble squeezing into Blake's Lycra catsuit these days.

If anyone knows about William Shakespeare - "Old Wag a Dagger," he calls him - it is Thomas. In his youth he carried a spear with the best of them and went on to play leading roles with both the Royal and the English Shakespeare Companies, as well as starring in the West End. During his 35-year career he has strutted and fretted his hour upon the stage with all the theatrical knights - Gielgud, Guinness and Gambon, although his own favourite actor remains Ian Holm.

Now he is at Musselburgh's Brunton Theatre rehearsing as Sir Toby Belch in David Mark Thomson's new modern-dress production of Twelfth Night. This is Thomas's third appearance in the most melancholic and delirious of Shakespeare's comedies. He was Feste as a student at RADA in the Swinging Sixties and he later played Orsino at Stratford "in a long white frock with a pigtail" in Terry Hands's chilly 1979 production. It was his first job after Blake's 7.

This may be the veteran Welsh actor's third go at the play, but it is 21-year-old Scottish drama student Kieran Brown's first. Indeed, if not quite his first professional role, it is certainly his first Shakespeare. Brown, from Falkirk, is playing Sebastian, twin brother to the cross-dressing heroine Viola, a character whom he had always regarded as "a bit wet" until he started playing him. Anyway, the final-year RSAMD student, given special leave of absence for this production, sits at the feet of Thomas, and suddenly you feel you have stumbled into another Shakespeare play altogether; they come across exactly like a young Prince Hal and his mentor, the fat knight Sir John Falstaff in Henry lV.

Not that anyone is suggesting that Thomas, a bluff and burly bear of a man, seen most recently on television as nasty Nathaniel Cleghorne in Heartbeat, is overweight. Rotund? Yes. In fact his wife asked him the other night when he returned to their Galashiels home after the day's rehearsals how much padding the wardrobe department was giving him for Toby Belch. "None," he replied, ruefully pinching a couple of inches. "An actor prepares," he jests, miming lifting a foaming pint to his lips. He is promising a bibulous and bilious Belch - "an unpleasant piece of work who can suddenly get very vicious like so many drunks".

Look at them both, chortles Thomas, as he and Brown pose for The Scotsman's photographer. "Before and after. You too could look as raddled as this man after a lifetime in the business." Thomas does a nice line in self-deprecation, but Brown is lapping it up. Name-drops keep falling on his head and if Thomas is in his anecdotage, the dark-haired, brown-eyed young actor is loving every thespian tale. Brown's favourite is the one which includes Thomas's personal definition of stardom. He was filming the Richard Lester movie, Juggernaut, with Richard Harris and Omar Sharif in 1974. They sailed for days around the Atlantic on a Russian cruise ship looking for storms. One afternoon they were comfortably ensconced below deck watching Scotland play Ireland at rugby. Suddenly the picture wobbled. "The ship was turning around. Sharif dialled the bridge and instructed the captain to steer a straight course until the game was finished. And he did. Now that is what I call being a Hollywood star."

Some actors who have been at it a long time bore you to tears with their stories, says the awestruck Brown, but he could listen to Thomas for hours. He is of course far too young to have ever seen Blake's 7, with its infamous bargain-basement sets and dodgy plastic props, although it was rerun on UK Gold last year. "My parents remember it and really loved it, though." At which guileless remark Thomas groans: "Oh my God, I've suddenly realised I had been acting for 15 years when this young man was born."

Despite the difference in years, though, you sense that Gareth Thomas has now taken his place up there with Alan Cumming - Brown's all-time acting hero, because he too wants to sing and dance in Broadway musicals.

Is it not a longish and, dare one say, downhill journey from Britain's first Space Boy and a bit of a cult to boot, to the Brunton? What on earth is he doing mumming in Musselburgh, of all places? "Working," he replies. "And I feel very lucky that I'm still doing it," he adds, pointing out that when the play closes he will be back in Galashiels building his greenhouse and probably joining the dole queue. Twice nominated for Bafta awards, fondly remembered for a 22-year-old series - "I think of it both as a milestone and a millstone in my career" - he is philosophical about acting. He has been telling young Master Brown that one day you are up there with Alec Guinness, the next you are out of work for six months and he had had better get used to the idea.

He is still pursued, though, by Blake's 7 groupies. At least a dozen of them will be making 500-mile journeys from the south of England to see him in Twelfth Night. He has recently been in rep in England, as Danforth in The Crucible and Big Daddy in Cat on a Hot Tin Roof, and the fans came too. Nowadays, he is paranoid about preserving his private life. When I call him at home to check some facts, he makes me promise to eat his phone number and he is only half joking. "Promise me you'll swallow it with some garlic and freshly ground black pepper," he pleads. He still does his bit, turning out for Blake's 7 conventions and the like. "I don't need a microphone," he booms at the sci-fi anoraks, "I am an English aktawah."

THE truth is that Thomas's career took a nosedive seven or eight years ago, after he moved to the Borders in the late Eighties with his family - he has a grown-up son and daughter, neither of whom has followed him into the profession. "I was fed up with London. I was never at home, always away filming. So we decided to get out of the city. We thought about Wales, where I was born, but it was far too expensive."

As a child he had lived in Scotland when his father worked here for several years and had fallen in love with the Borders. So Galashiels it was. But it is a long way from Soho restaurants. "Everyone thought I had either died or retired," he shrugs, although he had a notable success as the bull-like boss Bulstrode in London's Burning.

The character was brought in for one episode, but became a regular feature. "He was based on a real-life fire chief who retired, so they wrote me out after eight episodes. My last line was: "I'm thinking of retiring at the end of the year'." On film Thomas went on to say, "Now that's a good way to write yourself out of a series," and landed himself in hot water with the director for wasting film. "This used to be a profession and you used to be allowed to have fun. Now it's like any other business run by accountants - it's all about bottom lines," he tells Brown.

Not that this is a problem for the younger actor, whose own financial affairs are being managed by his accountant father. He has managed to save quite a bit of cash since he played the title role in Aladdin at Kirkcaldy in 1998 and won TV parts in Taggart - he was done in by a demented Caroline Paterson - and Channel 4's Anatomy of an Enigma, in which he played Francis Bacon. He also has a part-time job as a stock controller at a Falkirk supermarket. "They gave me some leave to do this, but they all said: "Oh, Shakespeare, how boring.' I hope they'll come and see it because it isn't, although I wish we were in doublet and hose and not modern dress - it's all big shoulders and very Dallas meets Dynasty."

After one week in rehearsals, Brown says he wasn't so much bored as metaphorically shipwrecked - "just like Sebastian In the play". Following days of intensive textual analysis, he was convinced he had made a mistake. "I mean I had turned down Sleeping Beauty at Ayr Gaiety for this," he says, with a note of irony in his voice. "At first everyone seemed to know what they were doing, except me. I felt deflated and miserable, completely out of my depth. But it's great now, I'm having a ball."

Thomas insists that Brown is doing just fine. "In the few scenes I have with him, I feel a real confidence in his ability. He's really holding his own. I am very impressed and he's such a personable young man." Always preserve a humble attitude to the job, Thomas warns him: "Remember, an actor is a small cog in a very big wheel." And, he adds, this will be no consolation whatsoever, but the fear never goes. "I am always bloody terrified before I go on stage," he admits. "Me too," sighs Brown. "I've got stage fright just doing this interview."

Twelfth Night is at Brunton Theatre, Musselburgh, from 28 January to 12 February.
---
Back to Other Reviews of Twelfth Night
Back to Gareth Thomas's other roles
Last updated on 29th of January 2000.