Posted 15th of May 2001
Obituary - Paul Daneman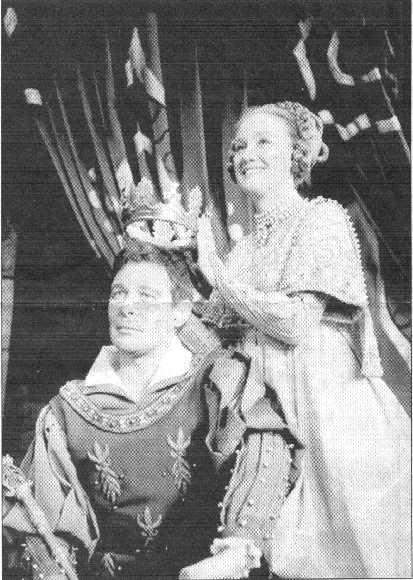 Daneman is crowned by Guinevere (Elizabeth Larner) in Camelot, 1965

Paul played Dr Bellfriar in Killer.

This obituray was from The Times 30 April 2001.
Versatile actor who on one occasion created his own drama on stage
Best known for his role as the dedicated intelligence chief Commander Ryan in the 1970's BBC drama series Spy Trap, Paul Daneman acquired a certain notoriety in theatrical circles after a heart attack on stage. He later put his experience to good use, writing and starring in an ITV sit-com about the victim of a heart attack Affairs of the Heart.

In 1979 Daneman was playing the lead in the farce Shut Your Eyes and Think of England at the Apollo Theatre in London. Just before the interval of a Saturday matinee the plot required him to drag a fellow actor on to a sofa because, in the script the actor had suffered a heart-attack. At that moment Daneman collapsed and was rushed to hospital, where he was found to have suffered a heart attack himself.

Paul Daneman was of German descent - his grandfather had settled in Britain before the First World War. He was educated at Haberdashers' Aske's School and Sir William Borlase's School, Marlow, before studying fine art at Reading University; but he soon abandoned a career as a painter in favour of acting.

Daneman's taste for the stage came after entertaining air force troops during the Second World War. He won a scholarship to RADA and first appeared on the professional stage in Bromley 1947 as the front legs of a pantomime horse in Alice in Wonderland.

Over the years he played a range of characters from Mowbray and the Bishop of Carlisle in Richard II with Sir John Gielgud to King Arthur in the popular musical Camelot at the Theatre Royal, Dury Lane. In 1955 he played Vladimir in Waiting for Godot and he also turned his hand to radio broadcasts, once saying: "It's the only medium where the thin man is allowed to play Falstaff."

In the 1970's Daneman began to work increasingly in television, starring in domestic comedies such as Never a Cross Word, and as a father of three opposite Wendy Craig in Not in Front of the Children. He also continued with his serious acting appearing in several television plays including Waste (1977) the story of a sex scandal in British politics by Harley Granville Barker that had been banned by the Lord Chamberlain until 1936. When his health hampered his ability to act he wrote a novel, If I Only Had Wings, and recorded books on tape.

Paul Daneman's first marriage in 1952 to the actress Susan Courtney, with whom he adopted a daughter, ended in divorce. He subsequently married the novelist Meredith Daneman (nee Kinmont) who survives him, as do their two daughters.

Paul Daneman was born October 26 1925 and died April 28 2001 aged 75.
---