Posted 21st of December 2007
Gareth Thomas - The Actor Speaks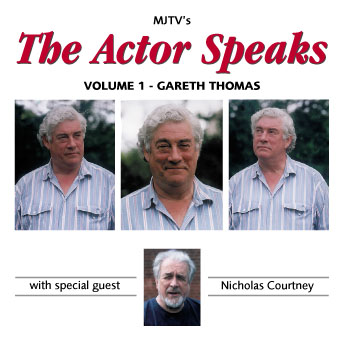 Gareth Thomas is the focus in the pilot of MJTV's new range of CDs called 'The Actor Speaks' Each CD will focus on a particular actor and aims to highlight their diverse talents and abilities. It also aims to explore areas of the character that actor is well-known for playing. It will not retread areas that other CDs, tapes or videos have previously done.

The Actor Speaks - Volume 1 - Gareth Thomas
Interview - Roj Blake, a childhood remembered

What made Roj the man he was? Gareth and Mark discuss their ideas on the character, his upbrining and family, drawing on clues given in the BBC TV programme.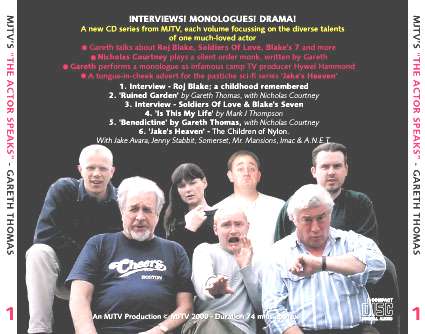 Ruined Gardens by Gareth Thomas

A charming gentle monologue penned by Gareth and starring Nick Courtney as a monk from a middle ages silent order. Exactly what is ruining their vegetable garden?

Interview - Soldiers of Love and Blake's 7

Gareth and Mark discuss the two sci-fi series. Gareth's characters Hywel, Nermal and ANET and what elements make a drama enjoyable. Includes the 'advert' for the Soldiers of Love series own spoof sci-fi show Jake's Heaven.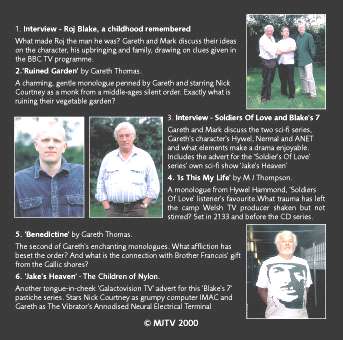 This is my Life by MJ Thompson

A monologue from Hywel Hammond, Soldiers of Love listeners' favourite. What trauma has left the camp Welsh TV producer shaken but not stirred? Set in 2133 and before the CD series.

Benedictine by Gareth Thomas

The second of Gareth's enchanting monologues. What affliction has beset the order? And what is the connection with Brother Francis' gift from the Galic shores?

Jake's Heaven - The Children of Nylon

Another tongue-in-cheek Galactovision TV advert for this Blake's 7 pastiche series. Stars Nick Coutney as grumpy computer IMAC and Gareth as The Vibrator's Annodised Neural Electrical Terminal.
'I hope this allows listeners and fans to see the varied talents and abilities of their favourite actors. I also wanted to give the actors a chance to have some of their own work performed and released. If this CD is a success, there will be another 2 volumes released this year.' MJT

Available now:

---
Last changed 21st of December 2007