Model Avon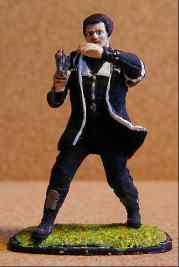 This model Avon is at 1/32 scale (about 2 inches high) white metal and normally comes unpainted and needing a little assembly.

This is a nice model, but it's not a beginner's job. There's a moderate amount of flash to be removed and the arms need fastening on, as does the base. The arms don't fit completely flush so some work with modelling putty is needed to smooth out the joins.

This is a white metal model, so the arms need attaching with superglue or similar. Ideally, the arms need fastening with a metal pin to make them more secure.

For those who want to paint the model, but don't want the hassle of assembling it, we offer the following: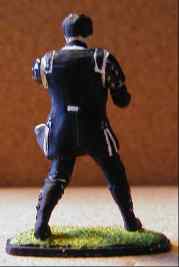 Assembled model - flash removed, arms pinned and glued, joins filled in with modelling putty and a matt black spray-paint undercoat applied. This costs an extra 3 pounds (it takes a lot longer to do than you might think). Assembled by Kelvin Proctor.

Fully painted model. Painted by Kelvin Proctor.
These models are temporarily unavailable - the maker is short of time.

The model is available from:

Imar Models as a kit only and as a kit, assembled and fully painted through Judith.

As a kit: Priced £8.30 UK and Europe, and £8.80 or $15 to the USA and Australia.

Assembled and matt black: Priced £11.30 UK and Europe, and £11.80 or $21 to the USA and Australia.

Fully painted: Priced £16.30 UK and Europe, and £16.80 or $29 to the USA and Australia.

Kalazar:
I just got my Avon from Judith and can say Kelvin (who did the painting) does a fantastic job!!!

The detail is exquisite!!!.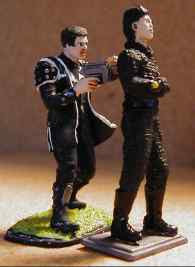 Review by Sally Manton
The figures ...

Well, they're gorgeous. Not that I know much about miniatures - I'm not a collector - but my small Blake and Avon (sitting on the computer surrounded by a Marvin the Martian, five plastic cornflake-box aliens and an unpainted Warhammer monster) look absolutely wonderful to me. As small as they are, they really do look like *them* - Avon's features and stance are particularly good (was someone watching the end of 'Blake' for that expression?); Blake's curls are lovely (I didn't think you could get them to look real that tiny) and my model even seems to have that stubborn set of the jaw (well, I like to think so). The costumes are well done as well, Avon's black and white from 4th series, and Blake's green outdoor suit (I always liked that one, and I guess the melon sleeves would have been impossible to model, let alone paint).

I'm now eagerly waiting for my Jarriere ...
---
Last updated on 24th of September 2001.