ttba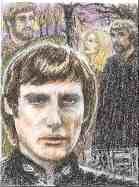 Information about ttba
TTBA features an eclectic mix of fiction by established writers as well as some excellent newer ones. TTBA includes thought-provoking stories addressing serious themes, with a particular focus on those that cross boundaries of genre or category. All major characters and seasons are featured. While the zine is mixed, it contains no erotica.

A total of 29 stories by Nickey Barnard, Belatrix Carter, Susan Cutter, Penny Dreadful, Executrix, Firerose, Hades, Hafren, Ika, Jackie, Jenner, Una McCormack, Morrigan, Nova, Judith Proctor and Airan Wilkinson.

Specially drawn colour cover by Val Westall. Internal art by Penny Dreadful and Firerose.

172 + xi A4 pages, spiral bound, colour card cover with plastic overlays.

Much to my surprise, ttba appears to be on course to break even. Thanks to everyone who has bought a copy and also, of course, to all those who contributed stories and/or artwork.

In consequence, I propose to contribute 1 pound per copy sold from now on to Amnesty International, who are celebrating their 40th anniversary this week.
CONTENTS
Text snippets from longer stories and other reviews are available at: http://www.viragene.com, where you will also find some graphics thumbnails.

The Seven Deadly Virtues, by Belatrix Carter
**Seven bittersweet shorts, each focusing on one of the first season crew

The Last Days of Roj Blake, by Una McCormack
**The President has been deposed, the Administration lies in ruins. But the fighting isn't over yet...

Awake and Find No, by Ika
**After Auron, Servalan plans revenge...

Courage?, by Nickey Barnard
**Vila remembers Gauda Prime

The Killer of Dole Nu Lin, by Penny Dreadful
**A futuristic fairy story, told from the point of view of a mutoid on Travis' ship

Not Our Kind, Darling, by Executrix
**The adventures of Kerry Avon -- an early chapter in the Executrix Avoniad

Four Years After the Revolution (I was looking for a job and then...), by Ika
**An AU where the destruction of Star One went as planned

Benediction, by Morrigan
**Betrayal after betrayal have left Blake bitter and cynical. Can he learn to trust again?

Purple Haze, by Executrix
**A delicious series of interlinked shorts. 'An iron fist in a velvet glove' (Una McCormack)

All the Gin Joints, by Executrix
**A chance encounter with an old lover brings matters on the Liberator to a head

Privilege, by Susan Cutter
**A naive teenager dreams of becoming a space captain

Nightmare, by Jenner
**Sex, love and addiction...

Ghost in the Machine, by Jackie
**Avon and Orac conspire to win a competition, but their discussions have far-reaching consequences...

Inga, by Judith Proctor
**Blake visits his uncle on Exbar and learns more than just how to cook rabbit

Before the Fall..., by Airan Wilkinson
**Blake lies a prisoner, at the point of death, when he's given another chance -- an allegory

Ash Wednesday, by Firerose
**After the events on Gauda Prime, a shell-shocked Avon is stranded on a primitive agricultural planet, survival his only priority. But nothing on Encatrin is quite as it seems...

Some Questions Best Unanswered, by Firerose
**A short prequel to Ash Wednesday

Hombres. Sailors. Comrades., by Ika
**Dayna's injury on a supposedly straightforward mission disturbs the fr agile balance of the Scorpio crew

Take My Breath Away, by Executrix
**A young FSA cadet needs extra tuition...

The Sleep of the Dead, by Hades
**Crash-landing on an unidentified planet leads Tarrant to reassess his loyalties

Obituary: Roj Blake, by Ika
**An extract from the Terran Star of 27-10-23

Fetch, by Hafren
**What is the strange voice that Avon keeps hearing?

Unfinished Business, by Nova
**Six weeks have passed since Scorpio crashed on Gauda Prime, and everyone is living happily ever after... well, nearly everyone...
AVAILABILITY
TTBA is currently unavailable.

TTBA is a mixed zine, and will include adult material that may be homosexual or violent in nature. Please do not purchase the zine if you are under the local age of majority.

PS: I'm willing to give a breakdown of contents ratings on request by private e-mail.
Review by Hafren
This isn't a proper review or anything; I just wanted to mention some of the things I especially liked about it. Trying not to actually give away too much at the same time, which isn't easy:

1. Penny's "The Killer of Dole Nu Lin", pov story about a change of state, someone becoming conscious of herself in a new way, and this is beautifully done via her changing use of language.

2. Belatrix's seven deadly virtues are mostly wicked and enjoyable little object lessons on how to end up in the clarts by doing the right thing, but the Gan one, "Humility" is a bit different and for me at least deeply moving - pure canon but with one of those reinterpretation of canon twists that seem to work so well with B7.

3. The Oliver Cromwell scenario in Una's "The Last Days of Roj Blake", where the democrat wins the revolution and then finds the plebs don't really understand what democracy's all about and need someone to force them into it...

4. and the alternative, the sad/happy moment in Ika's "Four Years After the Revolution" where the measure of his success is that no-one knows his name any more.

5. The "As You Like It" quotes woven into E'trix's "Take My Breath Away"

6. and Nova's happy endings - I can't write them but I love reading them and being convinced by them (even if my first reaction to Ta/V is "not unless they both have a brain transplant").

There's lots more that's enjoyable, but those were what stood out most for me and I just wanted to say thanks, folks!

Hafren
Review by Hafren
There are a *lot* of stunners in that zine. I don't think I've ever encountered that many stories in one place with that strong of an emotional impact on me. (Give yourself a pat on the back, Ms. Editor!)

Just went and looked at it. Great review, Ika! (And I say that not just because you were nice to me. :)) I'll add that Ika's own stories are also extremely impressive. "Awake and Find No" actually made me feel sorry for Servalan during "Terminal," something I would not necessarily have thought possible. (Fran must be so proud of you! :)) And "Four Years After" *does* work... Which is odd, because I seem to remember that when it was originally posted on FC I wasn't sure it did. But it actually brought a lump to my throat. (And I love "Hombres. Sailors. Comrades.", but you already knew that, Ika.)

Btw, I just have to mention my favorite non-angst bit in the zine (because favorite angst bits are too many to point to!): Avon contemplating the mathematics of potatoes in "Not Our Kind." Known many tech students, have you, Dana? :)
Review by Sondra Sweigman
I think Tavia did as good a job as anyone could in treading the fine line between sexually explicit and smut for smut's sake. Even in those stories which contain *passages* I considered to be erotica, they didn't *dominate* the story.

Anyway, there's some damn good writing in ttba. The stories I enjoyed most were "Courage?" by Nickey Barnard, "Humility: I'm Not Worth Dying For" by Belatrix Carter, "Before the Fall" by Airan Wilkinson, "Ash Wednesday" by Firerose and "Fetch" by Hafren. I also liked the following a great deal: "The Last Days of Roj Blake" by Una McCormack, "Awake and Find No" by Ika, "Benediction" by Morrigan, "Purple Haze" by Executrix, "Privilege" by Susan Cutter, "The Sleep of the Dead" by Hades. I'm not sure about "Unfinished Business" by Nova, Great plot, but it would have been *so* much more believable *without* the sexual relationships--any of them.

I did very much appreciate the high Blake quotient in the zine, and I did also very much appreciate the high-quality copy editing, because having just finished navigating those editorial waters myself for my own zine, I have a first-hand understanding of all the labor that task entails.

(Long on separate page)
Review by Penny Dreadful
What with Tavia having gone and said such nice things about my stories in FS3 (small unmarked remuneration will be left in a duffel bag behind the usual dumpster at the usual time), I now feel obliged to at least try my hand at reviewing "ttba". I've never reviewed a Zine before and have only ever actually seen three examples of the species including this one, so I hope this comes out all right.
1. Presentation
I like the plastic front and back. Makes a nice noise when I tap my fingernails on it. Repels coffee, baba ganouji, and much much more.

I also like the binding, no idea what it's called--the kind that allows one to fold the book backwards so the front and back meet. Handy because--no offense intended, seriously!--if one is reading it in a public place it allows one to maintain the pretense that one is reading something Important and possibly even Educational. Note I am not advocating outright deceit--the one time I was confronted I freely admitted to what I was reading:
Ruthless Interrogator: So whatcha readin'?

Me [mutters]: fnzn.

R.I.: Come again?

Me: i sd FNZN!

R.I.: I'm sorry, I didn't quite catch--

Me: I'm reading a fanzine, all right? An unauthorized non-profit amateur anthology of fiction based on a long-defunct television show AND IT'S GOT DIRTY BITS TOO! ARE YOU HAPPY NOW? Hey, where ya goin'? Come back here, you coward! [hurls "ttba" at the retreating figure, but it stays nice and clean thanks to the lovely plastic front and back]
But I digress.
2. Art
Well, there's mine, upon which I won't comment except to say the excellent quality of the reproduction captures my obsessive-compulsive cross-hatchings in admirable detail. And there's Firerose's, which are those neat kind of tracings or something...is there a name for that technique? Lots of pretty pictures! I like that in my grown-up literature...

Front cover probably best left to be commented on by someone with a proper appreciation for Val Westall's work, which I know is immensely popular and acclaimed, lack of taste on my part rather than lack of talent on hers.
3. Literary Content
I can't speak for anyone else but I know my story improved greatly through being actively "edited" by Tavia (as by Judith in her Zines). Other than that I can't comment on my own literary contribution--tastes like truffles or tripe depending on my mood. I've had some positive feedback, though.

So, aside from that...

I read every story, which says more about the quality of them than you might think, as I am not a "voracious" (or as I prefer to put it, "indiscriminate" ;-p) reader of fiction. So if I don't mention it by name that doesn't mean I think it sucks. If an author wonders e can ask me and I will comment, although I can't promise anything more insightful than the following:

I think the editor made a very good choice in strategically distributing Belatrix Carter's brilliant "Seven Deadly Virtues" throughout the Zine.

"Awake and Find No" by Ika is really good, awesomely well-written in my opinion.

I find much of Executrix's fiction intimidating--her prose is perfect and prolific and leaves me feeling utterly illiterate culturally and otherwise--in light of which she might not consider it much of a compliment when I say that I greatly enjoyed her "Not Our Kind, Darling". But even Shakespeare throws a bone to the proles on occasion, n'est-ce pas? To mix a metaphor...

"Privilege" by Susan Cutter, which appeared on the Space City list I think, is still excellent and still makes me think of Bukowski. But only in the most positive possible way. If you know what I mean.

"Ash Wednesday" by Firerose highlights for me one of the advantages of paper over electronic media in certain circumstances. At 32 pages it's not really that long in the universal scheme of things, and kept me reading with interest all the way through, whereas in its original electronic incarnation I found its length unwieldy and I think I skimmed a lot, which naturally left me feeling confused. Very good long-short story.

"Inga" by Judith Proctor and "The Sleep of the Dead" by Hades are both very original and insightful I think.
4. In Conclusion...
I think "ttba" is extremely good value for the price it's being offered at, and I would love to see it sell well and thus encourage more of its kind. I like the fact that the "Descriptive Contents" page gives violence as well as sex warnings. If it were up to me I think I would distinguish between explicit and nonconsensual sex...but then I probably would not distinguish between heterosexual and homosexual...but of course it's NOT up to me so I'll shut up now.

Thank you, Tavia, for your effort in producing "ttba". I really think it was worthwhile, and hope the experiment succeeds!

--Penny
Review by Una
'ttba' was a pleasure to proof, and now it's a joy to read. Tavia's aim was to create a zine which was, as the title of the editorial suggests, 'Conceptually Alien': which consisted of fiction chosen on the grounds of quality rather than according to any commonly accepted fan divide. In this aim she has been singularly successful. This is a zine for people who discriminate on nothing other than quality.

The layout of 'ttba' is clean, crisp and professional, with attractive and consistent styling. The artwork is of a high quality; as well as Val Westall's lovely cover, Firerose demonstrates that she is a talented artist as well as writer, and Penny Dreadful supplies some terrific stylish pictures of, well, I'll let you guess. The proofing is damn near perfect, by God, but the 2 challenge for 'first typo spotted' has already been won by yours truly (and there was much and loud swearing on the 17:45 King's Cross to King's Lynn service, to the consternation of East Anglia's commuter community). An honourable mention to Harriet Monkhouse, who spotted it about twelve hours later.

On to the fiction. Prize for most stories goes to Belatrix Carter, who contributes seven stories, which originally appeared as part of the 'Seven Deadly Virtues' challenge on Freedom City. Belatrix has written seven wicked little homilies on the dangers of good behaviour, ranging from the tongue-in-cheek ('Diligence') to moving ('Fidelity'). An excellent and well-crafted response to the challenge.

Executrix comes close to matching this number of stories, with four dispatches from her unique Avoniad. Her story 'Purple Haze' first appeared on Freedom City, and perhaps people remember my adoration of this story from then. Executrix's translation of real life events (the Kent State University shootings) into the B7 universe neither undermines those terrible, actual events, nor weakens the im pact of their fictional counterpart. Turning the famous photo of the young student berating the heavens over the body of her dead friend into an image of Inga and the source of Blake's politicization is only one of a number of masterstrokes in this story. This is a superb piece of politically critical fiction; it could only exist as fanfiction, and is all the better for it. Anyone claiming that fanfiction cannot be as good as profiction should be forced to read this story until they understand the point.

Executrix's appearance as a B7 writer has been a real pleasure. She has her own unique take, some of which I don't see (Avon a queer Catholic?) but her stories and vision are executed with such style and intelligence that, frankly, who cares that it doesn't match my own view? Fanfiction is all about interpretation, and it's easily as interesting to read other people's as to construct one's own. When I read Executrix's Avon, drawn here at various stages of his life in three other stories ('Not Our Kind, Darling', 'Of All the Gin Joints' and 'Take My Breath Away'), I care about him and the other characters she draws because they are substantial and believable, and her take on the B7 universe is so finely detailed. Executrix is very close to being elevated into my personal pantheon of B7 writers (about which more below); I suspect it is only because I am so badly read that I don't appreciate half of what is going on in her stories that means she hasn't. Executrix is a much better writer than I am reader.

It has been great to see queer readings of B7 emerge recently and, along with Executrix, Ika has been at the forefront of this. Ika claims that her obituary of Roj Blake was purely written as a way of coping with having watched 'Blake', but it's much more than simply a fannish desire to salvage a happy ending. It's a celebration of the characters and the programme, and it damn near persuades me that Blake and Avon could have been happy together.

Ika contributes three other stories to the zine and, of these, my favourite has to be 'Awake And Find No', which made me cry. So much B7 fiction is orientated towards the male characters and their experiences, their losses and their grief. Ika's story has one of the best portrayals of Servalan I have seen. It's also clever in its themes of how technology can support and construct femininity, and it draws a detailed and convincing picture of the Federation under Servalan's Presidency.

Of the other short stories, my particular favourites are, of course, the sadder ones. Jenner's 'Nightmare' is a cool dissection of the cruelties of desire. Airan Wilkinson's 'Before the Fall...' remembers those that have been forgotten. Hafren's 'Fetch' is a delicate and chilling ghost story, which imperceptibly grips its hands around your throat.

Then there are the longer stories. Firerose's 'Ash Wednesday' is a most skillfully executed blending of fantasy and science-fiction reminiscent of Ursula Le Guin, and also an excellent study of the psychology of despair. Susan Cutter's 'Privilege' crept up on me unexpectedly. Proofing it was an upsetting experience; rereading it with the luxury of sufficient time to pay proper attention, I was left impressed by the story's treatment of class - but still disturbed by its central scenes. Powerful stuff. 'Benediction' by Morrigan is a beautifully paced evocation of the Gauda Prime Blake, and a convincing exploration of how the idealist of 'Star One' could have become the hardened man we see in 'Blake'. And there's a funny little story in which the author is pompous enough to think she can pull off retelling 'Julius Caesar' as B7. These fans - they're scamps.

There are also some fan authors who take the source material and from it produce something first class that is uniquely inventive yet profoundly evocative of the series, and of a standard that should make professional writers weep: I'm thinking here of Alison Page, Loulou Harris and Nickey Barnard.

And now there's a fourth. Penny Dreadful's story 'The Killer of Dole Nu Lin' is, quite simply, one of the best B7 stories ever written. It is a story of the resilience of humanity, and its emergence in unexpected places; it exploits canon yet is scrupulously attentive to its detail; it is pure B7, yet something absolutely novel from a gifted writer.

This is the kind of story that you wait years to read. Only 'Blake's 7' could allow a fanwriter the space to write a story like this; it is putting aside simplistic divides and concentrating on creating bloody good fiction that allows such writing to emerge. Penny has done the fandom proud in writing this story; Tavia is to be commended for creating a zine in which this story stands as the epitome of her aims.

It's twenty-three years since 'Blake's 7' was first transmitted. It's almost twenty years since I first read a piece of fanfiction. Since then I've spent a large chunk of my life and my grant cheques on fanfic and profic from many different series, always chasing that elusive good read. For imagination, consistency, and sheer bloody quality 'Blake's 7' fanfiction has no comparison. Neil Faulkner and Judith Proctor have set the standard over the past few years, and now I'm delighted that a third editor has come along who insists that with fiction, what matters most is that it is *good*. Congratulations to Tavia on a superb achievement, and here's to 'ttba 2'.

Una McCormack, May 2001
Review by Cami
Some general comments first.

Very interesting cover. It has an element of fantasy, at least to my eyes.

I do wish the cover art had been reduced so that the title could have been included on the cover. Having the title on the cover makes it easier to locate particular zines when one has a rather large collection and a poor memory for cover art.

I can't quibble at all with any of the other production values/production decisions. I especially love the binding. It's tough and durable, and allows the zine to lay flat. I often read with lunch and I like the zine plopped on the table next to my plate at those times. The zine has a superb layout and excellent font choices. Everything is very readable without waste of space.

I wasn't sure I'd like the mixed content. What can I say? I've conservative tastes; I like the familiar. But it turns out that I adored the mixed content. It eliminated preconceptions about what a story might be about. It made each story more of an adventure.

Excellent Blake on the back of the cover page. I like the pensive pose.

I'm only going to comment on a few stories tonight. The ones I read were read so long ago that I have to reread them to make intelligible comments. I'll have to get to the rest of the stories (either rereads or first reads) another time.

"Honesty, A Question of Policy" by Belatrix Carter. This story was a favorite of mine when it appeared on SC and I was very happy to have a neatly printed copy. It's offers a fantastic Jenna, who is sadly often neglected in fanfic. She's strong and durable and independent. She's Jenna taken to her full potential. As I'm pretty sure I said when this was posted to the list, I'd love to see this story expanded. I want more of this Jenna. The Jenna picture at the end makes for a classy bit of filler.

"The Last Days of Roj Blake" by Una McCormack. I would have liked this story a lot better if it hadn't been multiple first-person povs. As I've said before, I'm really not keen on first-person pov, and I'm especially not keen on multiple first person povs. The flow was disrupted while I tried to figure out who the pov character was for some of the sections. Maybe that was immediately obvious to other readers, but it wasn't to me. I liked the theme, the premise, the beautiful writing, and especially the ending.

"Benediction" by Morrigan. Another first person pov. First-person pov used to be very rare in fandom. I'm not sure why that's changed. I think it makes it harder to "sell" a fanfic character from first person pov. The intimate nature of first-person means the writer and reader have to be on the same wavelength for the character to work. In this story sometimes Blake (the pov character) seemed to be spot on and other times it didn't feel like Blake at all. There were some nifty keen Deva observations throughout story. Deva became a completely fleshed-out, very sympathetic character in Morrigan's hands. I especially liked the observation that Deva was very good at fading into the background; it felt very right for Deva and wasn't something I'd noticed on my own. Another little touch I liked was Blake's momentary absent-mindedness when he forgot someone's name, and that he laughed at his forgetfulness, mocking his "vaunted personal touch." It made him seem very human. Morrigan's set up for the base didn't work for me. Logic does not suggest that the base could be anything but a secret base of Blake's. Having itinerant bounty hunters going in and out strained my incredulity. And it made little sense that Arlen had to infiltrate the base as she did when there was an easier way of gaining entrance--give her bounty hunter status. This was an AU version of "Blake." The bloody tracking gallery is gone, and different reunions bring Blake and the Scorpio crew together. After Arlen's attempt to take out the nest of rebels is thwarted, the story fell into the familiar pattern of a talky PGP, but I liked that. It was like an evening spent with an old friend.

"Privilege" by Susan Cutter. I have to admit this was the story I read first. It's a Tarrant story, after all. <g> Cutter's young, pre-FSA Tarrant is a delight. His recklessness, enthusiasm and naivety get him into trouble, then his toughness and resiliency get him through it. With a little bit of help from a familiar (to us) Federation officer. The experience ends up being possibly the best and worst day of young Del's life to date. Lots of plot, intense BabyT, terrific Tarrant insight, and a perceptive glimpse into Travis. The story is illoed by Penny. The illo features a battered Del clothed in coat, white socks and slip ons. The length of bare leg ending in white sock is precious. Travis looks good too, in formfitting black --rrrlll !-- and boots that are made for stomping. There's a lovely line of hip and thigh on Lt.C. T.
TTBA (mixed gen, adult, and slash)
Editor/publisher: Tavia
Date: January 2001
Format: A4, i-iv + 172 + v-x pp.; white card covers with clear plastic overlays, front cover in full color; white wire binding

Fiction:
Belatrix Carter, "Honesty: A Question of Policy" (gen; 2 pp.; S4, alt-Blake; J)
Una McCormack, "The Last Days of Roj Blake" (gen; 7 pp.; alt-S2; A-B-C)
Ika, "Awake and Find No" (gen; 4 pp.; S3, post-Rumours- Terminal; Se)
Nicky Barnard, "Courage?" (gen; 2 pp.; S5; V)
Belatrix Carter, "Courage: Attempted Rescue" (gen; 1 p.; S4, alt-Rescue; V)
Penny Dreadful, "The Killer of Dole Nu Lin" (11 pp.; S2; So/ocms, So/Tr)
Belatrix Carter, "Purity: It's Your Loss" (2 pp.; alt- S2; A/B)
Executrix, "Not Our Kind, Darling" (8 pp.; S0; A, implied A/various ocs)
Ika, "Four Years After the Revolution (I was looking for a job and then...)" (2 pp.; surreal S5; A/B)
Morrigan, "Benediction" (gen; 21 pp.; S4, alt-Blake; A- B)
Belatrix Carter, "Charity: Disaster Aid" (gen; 2 pp.; alt-S3; A-C)
Executrix, "Purple Haze" (4 pp.; S0; B-Inga, Hal Mellanby/Kasabi, A/ocm)
Executrix, "All the Gin Joints" (4 pp.; S2?; past A/ocm, A/B)
Belatrix Carter, "Humility: I'm Not Worth Dying For" (gen; 2 pp.; S2, Pressure Point; G)
Susan Cutter, "Privilege" (11 pp.; S0; Ta/ocms, Ta-Tr)
Jenner, "Nightmare" (3 pp.; S2, post-Pressure Point; A/B)
Jackie, "Ghost in the Machine" (gen; 4 pp.; S2-S4; A-O)
Judith Proctor, "Inga" (gen; 3 pp.; S0; B-Inga)
Airan Wilkinson, "Before the Fall" (gen; 4 pp.; alt-S3; B)
Belatrix Carter, "Fidelity: Decline and Fall" (1 p.; S5; uc A/Se, past A/B)
Firerose, "Ash Wednesday" (33 pp.; S5; A/ocf, past A/Anna)
Firerose, "Some Questions Best Unanswered" (2 pp.; S2, post-Hostage; uc A/B)
Ika, "Hombres. Sailors. Comrades." (5 pp.; S4; D/Ta, A/So)
Belatrix Carter, "Diligence: You Can't Please Everyone" (gen; 1 p.; S2; Z)
Executrix, "Take My Breath Away" (7 pp.; S0; A/Ta, past Ta/ocm, A/Anna)
Hades, "The Sleep of the Dead" (gen; 6 pp.; S3, pre- Powerplay; Ta)
Ika, "Obituaries: Roj Blake" (S5; 2 pp.; A/B, Se/ocf, D/So; humor)
Hafren, "Fetch" (gen; 3 pp.; S4; A)
Nova, "Unfinished Business" (12 pp.; S5; Ta/V, B/Carnell, A/B)

Nonfiction:
Tavia, "Conceptually Alien" (editorial)
ad for Redemption
"About the Contributors"
zine ads
"Descriptive Contents"

Art:
Val Westall front c. illo for "Ash
Wednesday" (color)
photos p. 2 J
p. 15 V
p. 73 G
Firerose p. ii B
p. 100 A
p. 135 A
p. 137 So
p. 149 Ta
p. 153 Ta
inside back c. A
Penny Dreadful p. 27 illo for "Killer"
p. 63 illo for "Charity"
p. 84 illo for "Privilege"


Posted on 11th of August 2002