Sleer As Folk
SLEER AS FOLK: THE GALAXY'S FIRST ALL BLAKE'S 7, ALL F/F ZINE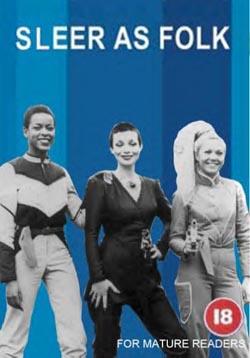 Description
Love and lust; oppression and resistance; betrayal and trust; politics and war; loss and hope; faceless minions and extravagant costumes - all the things that make Blake's 7 interesting - are explored here through the eyes of the Seveniverse's women, in a baker's dozen of dizzyingly diverse stories. This A5 zine is 325 pages long and heat-bound, with a colour cover and internal b/w photomontage art by the implausibly multi-talented Pat Fenech.

WARNINGS

The zine has ended up being angst-heavy, sex-light*, fairly violence-light, mostly Tarrant-free, almost entirely Travis-free, and really entirely without humorous stories.

All stories are f/f in some way. Some stories are sexually explicit (these are indicated here, but not marked in the zine itself). Some contain violence of varying degrees.

*around 25 pages out of 325 contain sex
CONTENTS
LADY LAZARUS, BY UNA MCCORMACK
I have done it again/One year in every ten/ I manage it
Taught by the Resistance and the FSA, Cadet Anna Grant learns all there is to learn about love and treason.

FUTURE PERFECT, BY IKA
I've done around a thousand jobs. I've hated all of them.
Wherever she works, wherever she lives, Della smokes a lot and worships Major Vinanna, Vis-heroine of Space Force Five. Then a cigarette break with Blake changes Della's life.

A PRIVATE SANCTION, BY PSEUDNIK
The trigger was ice-cold against Jennas finger. One squeeze would deliver a single depleted-uranium microshell. The twin telescopic sight and laser projection would pull the shell inexorably toward the targets forehead: toward that beautiful, perfect, symmetrical face.
In a revolution, there are only shades of grey. Jenna has some hard choices to make - but does she have enough information to make the right ones, in a universe where politics outweighs morality?

PREMEDITATION, BY MATILDA B JONES
Every time I look around I ask myself what I'm doing. Why not just go? Run? Leave them to it?
This moody vignette explores one of the series' most enigmatic characters: how well does Soolin really understand herself?

THE HARD WAY, BY STEVE ROGERSON
She'd seduced Jenna, big deal, it was a spur of the moment thing. Well, spur of the moment in that she'd been wanting to do it for weeks and had run just about every scenario through her mind about how she could do it.
Being left to operate the teleport has some advantages. While the lads face danger and disease on an isolated mining colony, Cally and Jenna enjoy a little girl time... [Sexually explicit]

A STAR IS BORN, BY FRAN
It was a cold, bitter winter, and I didn't know what I was doing in the Army.
The eccentric Colonel Kasabi - soldier, invert, mother - is having a hard enough time continuing to serve a Federation she finds herself less and less committed to. That's even before she discovers she is at the centre of the machinations of two of her cadets: the beautiful young newcomer Servalan and the bemused and besotted Don, son of ruthless Commissioner Garr Keller. [Sexually explicit]

ONCE, I HAD A SECRET LOVE, BY EXECUTRIX
There were a number of steps in the transition, but essentially Isabella Tansini's life ended when she was fourteen.
In the homophobic world of the Federation elite, survival is a matter of sacrifice and compromise for one woman. Will anything change once she finds herself on the Liberator? And how well did Blake really know his crew? [not-very-explicit sex]

DUET FOR REBEL AND YOUTH, BY CALLE DYBEDAHL
An assassin willing to trade his life for his target's can almost always find a way to succeed.
Dayna, last of the Scorpio crew, will kill Sleer, whatever the cost. She has no time to take on an apprentice rebel: can Tey, a thief and would-be freedom fighter, change Dayna's mind? [Sexually explicit]

KASABI'S CHILD, BY CATHRA BLEN
Kasabi's child. Servalan circled around the girl, watching her confusion and grief, but always looking for something beyond them, something in the eyes... was it there?
Half-truths, omissions and a wedding dress all feature in the tale that Servalan tells Veron, a tale she's never told before...

MORNING/NIGHT, BY DEVIA
Ika says: A shameless, but very short, PWP (Servalan/OFC) Fran says: A bijou slice of life at the Presidential palace [Sexually explicit]

I TOUCHED YOU, ONCE UPON A TIME, BY PAT FENECH
I am inclined, now, to be outside,
inclined to be armed,
inclined to carnage, wherever it might be found.
These days, inclinations count for nothing. To go out requires the organising of a guard of honour. Nothing less will suffice for the Ambassador's dignity and protection. I could shoot them?
Diplomatically a difficulty, probably... On a distant outpost, Avalon's negotiations are going badly even before she receives the report which provokes this bitterly emotive meditation on the (im) possibility of love for a revolutionary.

THE IMPOSSIBILITY OF J/C, BY IKA
To so many people, you're someone to die for, Blake; and to millions more you're someone to wait for. A messiah, as someone once put it.I can't wait for you to save me - and I don't have to. I can be my own hope.
After Star One, the Liberator's drifting, going anywhere, piloted by Avon's guilt. Jenna left and she couldn't take Cally with her. [sexually explicit, a bit]

SONGS OF INNOCENCE AND EXPERIENCE, BY NOVA
Oh, shit. Oh, no.
Is that what's happening to me?
Am I in love?
A jaded Soolin learns that, for all her experience with Dorian, in some ways she is the biggest innocent on Xenon base. Meanwhile, lines are being traced through the pattern of infinity... [Sexually explicit]

BONUS TRACK: RE/MAKING SPACE FOR WOMEN, BY NOVA
An article surveying the history of published Blake's 7 f/f writing from its first appearance in 1985 to the present day, with bibliography.

There is also a website for the zine.

The zine is temporarily out of print.

Review by Sarah Thompson
Just finished this one and couldn't resist doing a little review while it's fresh in my mind.

I'm happy to report that this is an outstanding zine, a suitable honor for the women of B7. Every single story is well written, and the photo montage illos are lovely, carefully crafted to fit the stories. The small size and flat binding mean that you can hold it in your hands like a book-- very satisfying.

My personal favorite story is Calle's "Duet for Rebel and Youth," a tragic PGP starring an older, harder Dayna, her young admirer, and a very scary Jenna. I especially like the clever use of Dayna's canonical weapon-design expertise in the plot, and the interweaving of action and emotion.

Second favorite, I think (although it's difficult to decide because all the stories are so good), is Fran's "A Star Is Born," which chronicles the beginning of ruthless young Servalan's rise to power, through the eyes of two people besotted with her, Kasabi and Don Keller. And for Best Supporting Role, I nominate little Veron's foster mother Sleeya, a most intriguing character.

The relationship between Kasabi and young Servalan also features in two other stories, "Kasabi's Child" by Cathra Blen and "Lady Lazarus" by Una McCormack. "Kasabi's Child" suggests a novel reason for Servalan's hatred of Kasabi, very different from the scenario of "A Star Is Born." "Lady Lazarus" appealed greatly to me because my own favorite character appears briefly at the end, in a foreshadowing of canonical events.

Una, I have a question about "Lady Lazarus." It's a stunning story-- extremely intense-- but not at all explicit, so that I wasn't quite sure which pairings were being implied. I more or less assumed that Anna and Kasabi were lovers, which would give an interesting resonance to Anna's later involvement with Avon; and that Anna and Servalan were not sexually involved, although in a twisted way they were very close. Did I guess right?

Pat Fenech's writing reminds me a bit of Una's-- very lyrical, very oblique. I'm assuming that the Cally/Avalon relationship so exquisitely described in "You Touched Me, Once Upon a Time" was unconsummated, but did I guess right about that? Or is it perhaps deliberately ambiguous?

I would never have thought that I would enjoy a PWB story about two original characters, but Ika surprised me pleasantly with "Future Perfect." I do hope her oc rebel couple survived to carry on the fight after Blake's arrest-- perhaps they will turn up later, in some future story, and meet the Liberator or Scorpio crews, hint hint? Blethyn and Della remind me a little of Dome Cycle Avon and Vila, with the lower grade having to look after the clueless partner, only not so much so.

Ika's second story, "The Impossibility of J/C," contrasts the lost love of Jenna and Cally to the never-consummated (?) love of Avon and Blake. Which pair are more tragic? Come to think of it, this story could be a prequel to Calle's, if we assume some not-implausible changes in Jenna's character over the intervening years.

For variety, there are two short vignettes: "Premeditation" by Matilda B. Jones, in which Soolin contemplates her new shipmates, along lines somewhat similar to those developed at greater length in Nova's story, but rather darker in feel; and Devia's "Morning/Night," a PWP featuring a hot, explicit encounter between Servalan and an original character. I don't recognize the name of the author; does anyone here happen to know who the ocf Uria is, and when this story takes place?

Pseudnik's "A Private Sanction" is a short, sharp, cleverly plotted thriller, very noir. It's great fun to read something like this with female characters.

"The Hard Way" by Steve Rogerson seemed to me to consist of two different stories, the Cally/Jenna affair and the episode-like adventure plot, which although they were both interesting didn't have much to do with each other. Maybe the two plot lines could have been more integrated; for example, perhaps Cally's new relationship with Jenna might somehow help her to cope with the trauma she suffers toward the end of the story. It would be nice to see more exploration of the emotional ramifications of the sex. And the adventure plot with its political ramifications and well-drawn ocs could have been developed at much greater length, perhaps even on its own as a gen story.

Executrix's "Once, I Had A Secret Love" is a very plausible account of a one night stand between two characters who never met canonically, cunningly positioned during the time when neither of them was seen in the canon, with interesting details of Jenna's past and a neat explanation of why Dorian was later to become so interested in Avon's hapless little gang.

For a cheery finish, Nova's story pairs off all the Scorpio crew in romantic happy endings, with the help of an appealing original character whose identity I have my suspicions about. She's a middle-aged woman with wavy gray hair who runs a gay bookstore and who at one point addresses an audience with "G'day." ;) Bel's, er I mean Nova's, nonfiction survey of the B7 f/f field to date is an invaluable aid to those looking for more of the same and a fascinating critical analysis for those of us who've already read the stories.

Very highly recommended.
SLEER AS FOLK
Editors: Fran & Ika (Leeds)
Date: 2002
Format: A5 digest, 325 pp., white card covers, color front cover with clear plastic overlay, black tape binding

Fiction:
Una McCormack, "Lady Lazarus" (17 pp.; S0; Se-Anna, Anna/Kasabi?)

Ika, "Future Perfect" (31 pp.; S0; ocf/ocf)

Pseudnik, "A Private Sanction" (9 pp.; S4; J/Avalon)

Matilda B. Jones, "Premeditation" (1 p.; early S4; uc D/So)

Steve Rogerson, "The Hard Way" (31 pp.; S2, post- Pressure Point; C/J)

Fran, "A Star Is Born" (61 pp.; S0; Se/Kasabi, Se/Don Keller)

Executrix, "Once, I Had A Secret Love" (13 pp.; S3; J/So)

Calle Dybedahl, "Duet for Rebel and Youth" (43 pp.; S5; uc D/ocf, D/J, past C/D, past C/J, past D/Se, past D/ocfs)

Cathra Blen, "Kasabi's Child" (11 pp.; S2, Pressure Point; Se-Veron Kasabi, past Se/ocf, past Se/Don Keller)

Devia, "Morning/Night" (3 pp.; S?; Se/ocf)

Pat Fenech, "You Touched Me, Once Upon a Time" (14 pp.; S4; past C/Avalon)

Ika, "The Impossibility of J/C" (11 pp.; S3; past C/J, past uc A/B, implied B/Deva)

Nova, "Songs of Innocence and Experience" (S4; past So/Ta, past So/V, uc A/So, D/So, Ta/V, past and future A/B; 44 pp.)

Nonfiction:

Fran & Ika, Editorial

Nova, "(Re)Making Space for Women" (essay and bibliography on B7 f/f)

"Author! Author!" (contributor bios)

Art:

Ika cover photo-based design, D, Se, So

Pat Fenech photo montages; frontispiece for each story

Posted on 08th of July 2003