Deliverance report
Report by Martin
Stoke-on-Trent Moat House Hotel - 20/27th March 1998
Deliverance '98 was a fabulous convention this year, and it'sthe largest group of Blake's 7 fans I've seen together before. I managed to get talking to manyof the original cast, bumping (literally) into Gareth Thomas (Blake) a few times andhaving a real good chat which I'd never managed to do before. I also had a long sit downwith Sheelagh to discuss her book Blake's-7. The inside Story'. She's a very nicelady who gladly pointed out all the errors that had been made in the book! The obligatory photos and autographs were also gathered from some of the original cast.

The guests that did attend (I think this is all) were : Gareth Thomas, Jacqueline Pearce, Peter Tuddenham, Jan Chappell, Sally Knyvette, Michael Keating, Stephen Greif, David Jackson, David Maloney, Chris Boucher, Sheelagh Wells, Joe Nazzaro, Mat Irvine, Stuart Fell, Brian Lighthill,Brian Clemett and Mike Tucker.

(Someone let me know if I've missed any please!)

Here is the main list of what Deliverance had to offer:
Art and Model Show (a huge display of some very professional art and model work by very dedicated fans)
Art Sale
Auctions (where I managed to purchase some very rare Blake's 7 memorabilia)
Autograph sessions (although the queues were a bit long, it was worth it!)
Dealers Rooms
Exhibitions of original props, clothing and pictures (well worth a visit)
Discussion Panels
The Guests
Guest Workshops
Mastermind contest
Photo sessions
Pub Quiz
Video rooms for 24hr entertainment
I've included below some of the photo's I took on the day. They are described below :
All in all, I had a great time!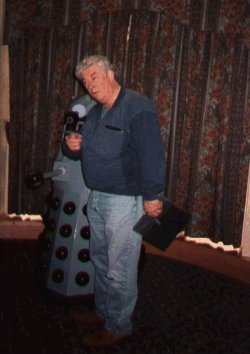 Gareth Thomas (Blake) with a local Dalek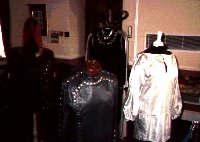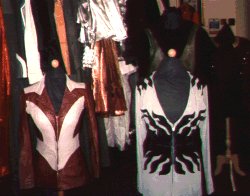 Some of the original costumes used on display in the exhibition room. I'll leave it to you to workout the episodes and the actor/actress that wore them!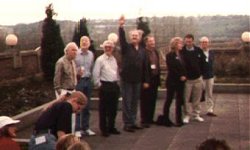 Some of the cast! From left to right here we have, Peter Tuddenham, Chris Boucher, Brian Lighthill,David Jackson, David Maloney, Sally Knyvette, Stephen Greif and Brian Clemett. Apologies for the poor quality as I dropped my camera, and it seems to have done a bit of damage.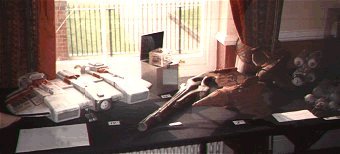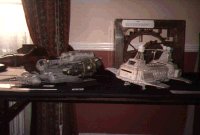 Several of the original models here, including a Federation Interceptor, and a model from one ofmy favourite episodes. The miniaturised 'Orac' from Gambit.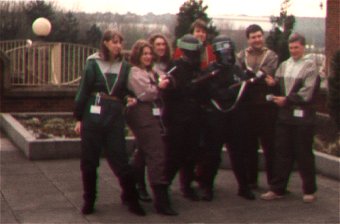 Caught these people holding some Federation guards. Good outfits!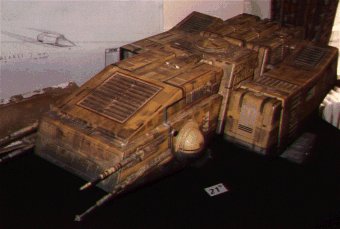 A great original model from the episode Sand
---
Back up to Blakes 7 Conventions