An Ohio Yankee in Blake's 7 Land
By Carol MC

Tuesday evening, June 16: Long line at check-in at Pgh. airport and an overbooked plane. They were offering juicy incentives to delay a day, but Teri and I had firm commitments all day Thursday that didn't allow us to consider their offer. (Wish they had offered the same on the trip home; I'd have grabbed it.) A thunderstorm briefly delayed take-off, then we were off and running, on a direct flight to Gatwick Airport.

Wednesday: Excitement and cramped seating combined to foil our attempts to sleep during the overnight flight. We arrived in London at 6:30 am (London time) with only about 20 minutes sleep under our seatbelts. The first day was a bit stressful, not helped by the above-mentioned shortage of sleep. We did a doubledecker bus tour of the city and I was overwhelmed by sensations of crowds (my first tube experience was at rush hour!), claustrophobia (tall buildings and narrow streets), confusion (winding London streets were not designed to make navigation easy) and air pollution. Add on a serious attack of nerves (Teri had to practically push me to the Gielgud stage door to deliver a note to SP asking if he could spare a few minutes to chat after Thursday's performance) and I was almost ready to hop a plane home.

Thursday: All reservations about the trip quickly vanished (and never repeated) when this day turned out to be absolutely perfect. Jenni and Fifi showed up at our hotel bright and early (I was a horrible task master this trip, forcing everyone--poor Teri!--to adjust to my typical early morning rising and get moving schedule) and the four of us were off for the Tower of London. Jenni and Fifi are great fun and were the first of many gracious, kind British "hosts" who made our stay so wonderfully special. Of special "fannish" note at the Tower, Jenni and I spotted a sketch of a naked soldier being flogged, and I decided a photo of it was a necessary trip souvenir. The victim (or guilty party, depending on how you look at it) is tied to poles arranged in a triangle. His arms are raised above his head and secured to the top of the triangle; his legs are spread apart and tied to opposite ends of the base. A cross pole prevents him from sagging forward and away from the lash. One soldier is armed with whip, while a fancier dressed individual (an officer?) and two other soldiers look on.

The Tower (and so many other places over the course of the trip) imposed an incredible sense of history and drama that is impossible to put into words. To stand where royal "criminals" were beheaded. To touch structures that were built so very long ago. British history really came alive and caught me in many an emotional whirlpool.

After concluding our visit to the Tower (that included a superbly entertaining Beefeater Tour--and said Beefeater singled out Teri and me--because we were soppy American tourists?--for attention), Fifi swept us away in a black cab and took us to The Rain Forest Cafe for lunch. The food was scrumptious and the decor delightful. It was easy to imagine ourselves in the deep, dark jungle, surrounded as we were by animated critters, lush flora, tropical thunderstorms, and the cries of wild birds and animals. The cafe is a stone's throw from the Gielgud, so I had to look at it (in nervous anticipation--would SP really be on stage or would there be an understudy?) before we set off for our hotel to gussy up for an evening at the theatre.

We allowed plenty of time to get to the theatre and relaxed in the Stalls Bar until the call to seats. (I prudently restricted my imbibing to sparkling water.)

Ten minutes into the play my worst fears were put to rest when a very tall figure could be spotted through the glass of the door to "Barbara's house." In marched Steven as Hamish Alexander, described by his on-stage girlfriend as "gorgeous." I'll put together a proper review of the play later on. For now, suffice to say that Steven was absolutely splendid as Hamish, a character whose traumas and complexities required a full-range of dramatic and comedic presentation by the actor involved. And he was indeed "gorgeous." Every revealed nook and cranny.

I can only admire how Sarah ably took in so much while seeing the show just once. Maybe it was a case of "deer caught in headlights," but my first exposure to exposure left me stunned and my notes include only the following fleeting impressions:

His skin is so very pale that it looks like it has never seen the light of day. Nice buns. There's a sparse line of hair in the center of his chest, at nipple level, as well as the previously documented wisps near his navel. Buns. Spotted band of material about his waist. See nipples through shirt when he's wearing a yellow turtleneck. Thin, white undershorts. Beard lighter than hair. Blondish and reddish shading in parts of it. Nicely shaped foot, arches appear to be very high.

After the show there was much twittering as we stood about the lobby knowing we should be working our way around to the stage door. Jenni-the coward!--took herself off to the loo. And it was up to Teri to once again shove Fifi and me in the proper direction. Jenni caught up with us just before Steven appeared. He looked totally exhausted (he had had a matinee and evening performance that day) and slumped against the brick wall of the theatre while chatting with us.

Back to my notes: He looked much younger--still boyish, in fact--out from under the harsh stage lights. He was utterly charming. I especially liked when he thought he might have been blushing (because here were four women ogling him after having seen his skin on stage a short while before?) when I mentioned his turning red. But I was referring to his turning red on stage. While signing programs, he told us the publicity pic used in the playbill had been taken just before he grew the beard for this part. He sounded a bit distressed when he suggested that the new publicity picture made him look older than previous pics, but Jenni reassured him that he looked very young--younger than his female costars-and that brightened him up considerably. We all agreed it would be tactful not to share the opinion that Steven looked younger with the actresses who played Barbara and Nikki. We talked a bit about Hamish, and Steven appears to enjoy playing a character who has some rough edges. He mentioned the moment where he exclaims Barbara to be a "fucking bitch" in a manner that suggested Steven Pacey might find it impolite to refer to a woman in those terms.

He kindly agreed to a couple of photographs. I took one of him alone and one of him with Jenni and Teri. There was trauma a few days later when my camera inexplicably stopped working and I feared I had lost the Steven pictures--or perhaps that they had never been taken--but that wasn't the case. The pics developed and helped refresh my memory about what he was wearing. Steven was as bundled up as seems to be the norm for him. While I was wearing a thin silk outfit of trousers and short-sleeved top and was quite comfortable, he had on a white t-shirt, a black sweatshirt, blue jeans, and was carrying a coat! He looks quite lovely with his sparkling smile radiating from his face. But I have to say that while the beard isn't bad, I much prefer him clean shaven.

After a lovely visit, we stumbled off into the crowds on Shaftsbury Avenue, where I narrowly avoided being attacked by a lamppost. Rumors that I was so dazzled by Steven and the play that I couldn't see straight are not true. Walking into the lamppost was a result of jetlag.

Too hyped up to eat (except for Teri), we blithered our way back to Kensington and bade a far-too-quick goodnight as Jenni and Fifi had to rush for trains. Nor can I say that I slept much that night, as visions of our wonderful day rolled through my head. Most happily. :)

Friday: Perhaps a bit on our home away from home here. Thanks to Teri's experience (this was her sixth trip to England), our hotel couldn't have been more strategically located. It was near the corner of Gloucester Rd. and Cromwell, about 60 meters from the tube station (which included a direct train to the West End, with lots of fast food and budget restaurants, a laundromat, a post office, and grocery nearby. The hotel has been undergoing a major refurbishment. Work was still going on outside and we had to dodge paint cans and ladders in the area of the front door for the first week or so. Our room was well appointed and large by British standards (or so Teri tells me). The only minor detractions were a tiny shower stall (I often bumped the controls and accidentally turned off the water while trying to scrub up), the lack of tea making facilities in the room (Teri tells me teapot and supplies are standard in most Brit establishments) and the skimpy continental breakfast included in the fee (tea or coffee, toast with butter and jam, orange juice). Most days we were long gone before the appointed breakfast time, so the stingy breakfast might have been a boon. We didn't regret missing it when we took off early.

Over our first breakfast Teri and I realized that the Royal Family was in residence at Windsor (our planned destination for the day) for Ascot, so the state apartments wouldn't be accessible. Proving that there was flexibility in our planned schedule (which Fliss likened to the precision and detail of a military campaign), we decided to do Hampton Court instead. The sky was bright and sunny and we scurried over to the grocery to buy items for a picnic lunch on the grounds. Hummus, pita, and an orange for me; cheese, bread, orange and Cadbury bar for Teri, and we were off to the train station.

The train was full of school children. We worried that Hampton Court would be overrun with rugrats, but it turned out they were mostly destined to do a Charity Walk in the Hampton area. On the train Teri revealed an idea for a play that came to her after "Things." It would involve mountain climbing and she envisioned Gareth and Steven in two of the major roles. Except she later replaced Steven with Ralph Fiennes and relegated Steven to the role of Gareth's dead son, who would only be seen in flashbacks (some friend she is <harumph>).

Hampton Court Palace and the surrounding grounds are spectacularly beautiful. The examples of weight-powered technology that we encountered in England were fascinating, including the weights that powered the spit in the Court kitchen and the ancient clocks in the British Museum. Our tour guide for The Georgian Rooms in the palace was the ghost of one of Queen Caroline's ladies-in-waiting, who filled us in on all the gossip and intrigues of George II's court, including the fact that their royal highnesses disliked their oldest son, Frederick, and spoiled the next son, William.

Our minds turned to more lofty pursuits over lunch on the palace grounds. Teri's melted chocolate bar inspired a vision of licking chocolate off a BSO, though Teri amended that my BSO would be better appreciated if smeared with hummus. (I have a very underdeveloped sweet tooth.) Then we tackled the maze, which was a bit overrun by exuberant school children. Rather chagrined by my failure to decipher London's confusing streets and byways in twenty-four hours or less, I was determined to best the maze. My first attempt led us to a gate marked emergency exit. A failure? Not really. Careful explorations later determined that the only two exits were the way we came in and said emergency exit, so it might be concluded that I did conquer the maze on my first attempt (though we continued to fumble about the hedge rows for quite some time after that looking for an official exit that wasn't also the entrance), not realizing we had been successful. And later I learned that the purpose of the maze is not to get to an exit, but rather to get to the center then back out again. So one entry/exit point was the way is should have been.

As beautiful and perfect as the day was, there was a cloud hovering over our horizon. Teri's lower extremities began to ache and shriek as we continued our exploration of Hampton Court, and she was destined to be half crippled by a recurring toe problem (which consequently had her walking improperly and led to strain on knees, legs and hips as well) for the rest of our trip. But she gamely carried on despite handicaps and pain. I had to admire her stoicism.

Back in London about mid afternoon, I decided to stop by the Half Price Ticket Booth in Leicester Square on the "off chance" there might be some theatre tickets still available. Much to my amazement, there were and I obtained a fantastic seat for the evening performance of "Blood Brothers." We then strolled about a bit and stopped in a bookstore, where I found a London map that was to my liking. Deciding that I needed a sense of geographical orientation and independence, I spread my wings and flew off on my own while Teri returned to the hotel to recuperate.

I had talked to Nic Best (longtime friend and Horizon pillar) a bit earlier and she had invited me to visit her at the Royal Academy where she works, so I set off strong of mind and body (and hoping I wouldn't get lost). There was some uncertainty but I reached my destination in a manner that greatly enhanced my confidence in my ability to navigate the city. Delights awaited me in the Academy's courtyard, where a series of sculptures entitled "Warriors" was on display. I can't find my note with the exact figure but it was something like 60 different sculptures of men in various intriguing positions that put all together provided a thorough study of male anatomy. Some figures appeared to be either torture victims or men practicing complicated gymnastic exercises, including several that were suspended upside down from the roof and walls of the buildings.

My mind must still have been in torture mode because the antique leech-holding container that was included in Nic's tour of the Chemical Society's premises got me to thinking of various unpleasant use of leeches.

With plans to dine with Nic the following Thursday established, I returned "home" to dress for the theatre. The first half of "Blood Brothers" dwelt a bit too long on the characters as seven-year olds, but the second half was tremendously gripping, with a final scene that had me close to tears. My seat was in the second row and the design of theatre is such that I had no seat directly in front of me and I was practically on the stage. A sensation that was enhanced when two cast members in the roles of policemen took up position in close quarters to my seat (one came a hair's width from stepping on my toes) for the dramatic conclusion. When their guns went off practically in my ear, I yelped.

I returned to the hotel where Teri was watching television (a pattern that became well established--I'd be out roaming or going to the theatre while Teri got her Brit tv fix many evenings). I don't think I ate beyond our picnic lunch that day. I just kept forgetting or being too busy. Very good for the figure. Too bad I can't be so distracted while at home.

It was a rare hot night and the wide open windows let in traffic noises that disturbed our rest. Which didn't much matter because I was running on adrenaline that gave me energy that shouldn't have been there, sleep or no sleep.

Saturday: A touch of being under the weather prevented Tanya from joining us early as planned, but Teri and I ably filled the time with some browsing about stores, including Forbidden Planet and Hollywood Superstore. I later met Tanya, Fifi, and Jenni for my second viewing of "Things," this time attending a matinee. I was much relieved by the fact that Steven didn't turn brilliant red as often as he had on Thursday night. That had me quite worried about his health. But further thought on the subject makes me think it might be his fair complexion that is the culprit--it makes a rush of blood really apparent in a way that isn't so noticeable in darker complected individuals.

He was again brilliant in the role. There are many subtleties in his performance that make multiple viewings extremely worthwhile. Not to mention the opportunity to better study body parts a section at a time. His rolling about in bed was a bit different each time, and we got more lengthy views and some superb angles this performance. The shoulder musculature is every bit as fine as Sarah noted.

We made another quick stop at the stage door (after which I left him in peace for the remainder of our trip) and Tanya was able to see him and get her program autographed. He had an errand to run, calls to make and needed to get a bite to eat, so we didn't keep him long, but had another pleasant chat. The theatre was disappointingly empty that day (World Cup and Wimbledon competition?) and he seemed glad that we were there to help fill it. It can't be easy playing to small houses. You can really see the cast of live theatre respond when the audience provides reinforcement. And the bigger the audience the better.

Teri had met us after the play and the five of us headed off for the Space City gathering at Page's Bar. We walked, though I often felt guilty for suggesting that since several members of our party were not in the best of shape. We gabbed about skin and about the dysfunctional characters of "Things We Do for Love." We'd like to hope that Barbara and Hamish end up happy, but there is certainly no guarantee of that. Nikki appeared to gain strength during the play, making us feel better about her. She finally struck back at someone who hurt her when she destroyed Hamish's wardrobe and Barbara's chair. None of us held out much hope for Gilbert's learning from his pain, however. It is a most thought-provoking play.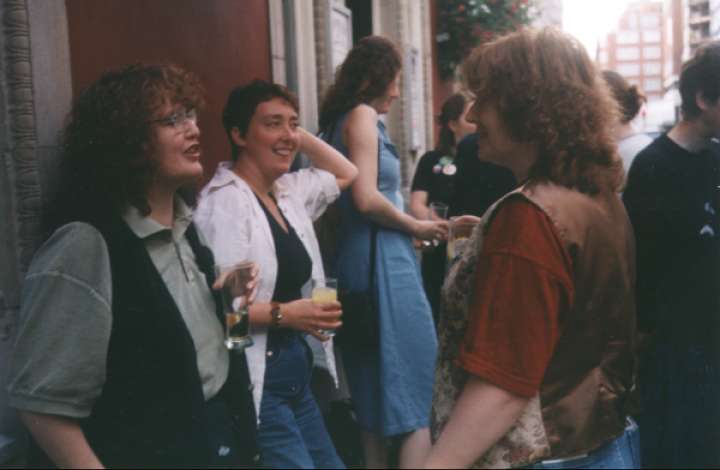 Teri, Alison Page, Azi/Heather
The Page's Bar happening turned up a horde of fans: Steve R. and another Steve, Fifi, Jenni, Tanya, Teri, Chris, Colin (Jenni's mate), Tom, Louise, Una, Harriet, Heather, Linda, Kat, Alison, Judith, and me. We were so spread out over four tables that I didn't get to talk to a couple of people, including Steve R (who had kindly arranged the gathering). Nor did I see the pictures Kat had brought from Deliverance (didn't learn that she had them there until a day or so later). I distributed Tarrant Nostra buttons, though I'm not sure who actually took them. I was pleased to see Chris snatch up one, dedicated Vila person that she is. And I'm pretty positive that Steve R didn't want one. I also forced pictures on people and was the recipient of pictures and other lovely items in return.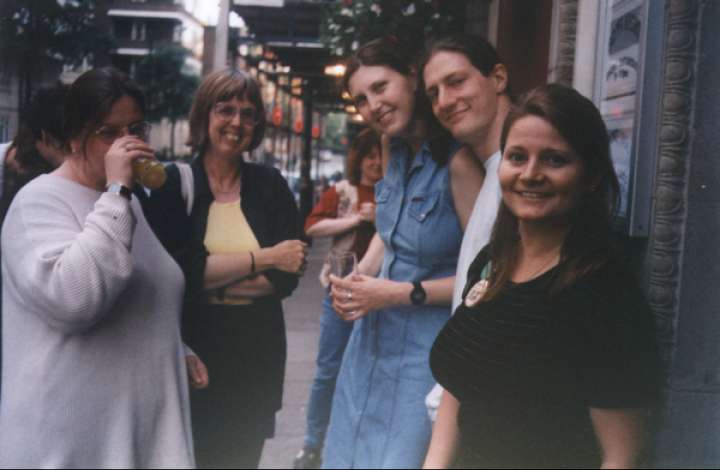 Kat, Chris, Louise, Tom, Jenni
The bar was so noisy that many of us wisely retreated to the sidewalk for some quality conversation. We did little groups and mixed and matched and talked for hours. Much of the time, Judith, Linda and I perched on the curb and talked about writing projects, which I always find most satisfying. (The long hours of daylight in London had me thinking it was about 8 pm when it was actually 10 pm.) I don't think we got back to our room until past 11. Harriet had sent me on my way with "homework," a book on Cricket to better prepare me for my trip to Lord's Test the next day. It was such a wonderful book (lots of information presented in a clear and entertaining manner) that I don't know what time I finally got to bed. But good times are more important than sleep. I also had an unexpected treat to read, the final segment of Susan Cutter's A/T story (delivered by Harriet). I saved that until morning when I could savor it with a fresh brain.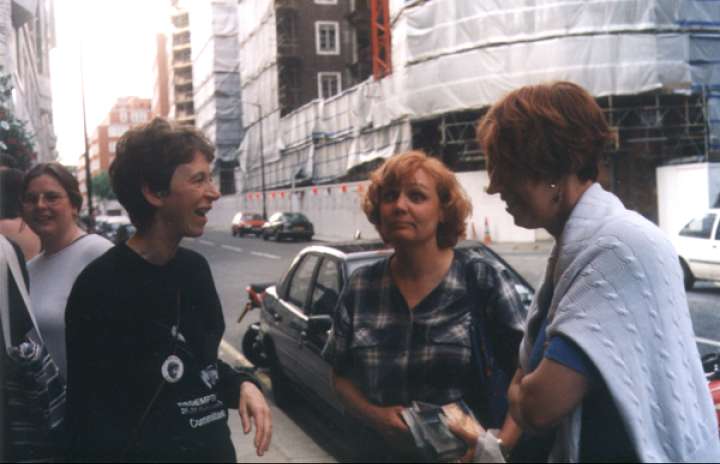 Judith, Carol Mc, Linda N
Sunday: This was the day that Harriet was escorting me to the test match between England and South Africa on the hallowed Lord's Test Cricket Ground. We'd arranged to meet at the Green Park Underground. I'd naively expected an empty tube station on a Sunday morning, wiping out the fact that half the population of London would also be making their way to the Cricket Ground. But we managed to connect and squeezed onto a car that was literally a sardine can of bodies compacted into an inadequate amount of space. Since I was pressed against a very fine body on one side, I didn't mind at all.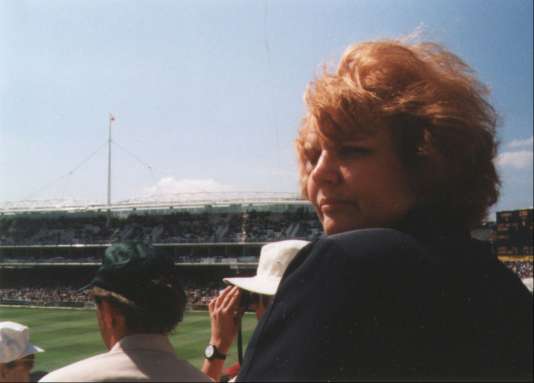 It was a bright, sunny day, perfect for an outdoor sporting event, only mildly handicapped by the fact that I had left my sunglasses at Page's Bar the night before (I retrieved them Sunday evening). Settled in our seats, with a gentle breeze wafting over the stadium (do you call them stadiums?), we watched as England attempted a miracle comeback. The two English batsmen were combining for an impressive number of runs as the morning began. Excitement and hope started to build. In a most restrained manner. While I wanted to be yelling "hey, batter, batter, batter," the sophisticated cricket crowd were sitting quietly and calmly under the noonday sun. You can't even clap except under clearly defined circumstances.
Then we broke for lunch. A truly elegant lunch in a pavilion that had been constructed to provide luxuries for the well-connected attending the match. China, three sets of silver, floral centerpiece, bucket with wines, printed menu. Quite an improvement on ballpark hotdogs with mustard. Lunch consisted of asparagus and Parma Ham, Roast Noisettes of English Lamb, three salads, hot new potatoes with chive butter, dessert, cheeses, coffee. Everything was delicious. But it took a while to be served all of these courses and play had resumed on the field (brought to us via closed circuit tv). We debated skipping dessert and heading back to our seats when the dessert was delivered. Mulled wine and summer berry pudding was not to be ignored. It was as delicious as it looked. (I want the recipe!) It was so beautiful that I was inspired to take a photo of it. Then the equally exquisite cheeses also held us captive. Which might not have been for the best. As we nibbled on brie and Shropshire Blue, England's luck turned. British batsmen began falling like dominoes. By the time we were well settled in our seats again, England was close to being down to their final pair. The bottom of the batting order as we'd say in America. Which didn't bode well for the local heroes. But much to our wonderment, Croft and Fraser held on and got the score to where South Africa was forced to bat again, a saving of pride even if a South African victory was inevitable. After a break for tea (which we were too stuffed to even think about attempting), South Africa ended the contest with merciful swiftness.
After the match we met Harriet's friend David (an official scorer and the person who had provided our VIP tickets) and retired to the VIP pavilion for drinks. Harriet pointed out players, umpires, and officials as they appeared, and I almost felt as if I was in the presence of royalty. It was quite posh, to say the least. A superb day that I'd never ever have experienced without Harriet. I just hope she can get over to America so that I can show her how the other half lives. Or maybe not. Fine china and wine aren't often seen at baseball games.
Sunday evening: I phoned the Baskervilles, said hi to Robert and had a lovely chat with Ellie. I'm looking forward to meeting all of them in person some day, especially Master Thomas. Then I called Page's and learned my sunglasses were there. It was a mad dash to retrieve them before the bar closed, not helped by the fact that haste had me hop the wrong tube to begin with.
I should have been made wary by evidence of my deteriorating mental and physical prowess--forgot sunglasses, popped sparkling water over the crowd at Lord's, jumped on the wrong tube--but that was not to be. So it was with all innocence that I hauled Teri out of bed at 5:30 am in order to catch the early train to Poole.
Monday: Not being one to make sport of others' mistakes, I shan't detail Teri's near train disaster during the trip to Poole. But like our other gut-wrenching moments, it thankfully had an "all's well that end's well" conclusion.
Judith was waiting for us at the station and off we went on the trail of further adventure and fun. It was another gloriously beautiful day: blue sky and bright sun but with moderate temperatures that were perfect for our planned hike to the coast. It was a bit disconcerting to be with a Judith who could actually talk. (She's been almost voiceless the other times I've met her.) I thought at first that it might be a clone.
After swinging by her house and taking a quick peek at her fannishly decorated walls, we headed for Winspit, the scenic spot where "Games" was filmed.
We parked in the nearby village and set off, with Teri using a borrowed walking stick to aid her progress. All too soon we came to the fateful duckpond, where the camcorder's "iceberg" lurked. It was a gorgeous setting on a gorgeous day. Who wouldn't want to film it? And I did. Then disaster struck. I'm still not quite sure how. But one minute the camcorder was in my hands, the next it was dropping down, with the safety strap disconnecting and remaining about my wrist (some safety strap!). My heart temporarily stopped beating.
The camcorder came to a soft landing on the spongy earth. Momentary relief. Then it bounced back up into the air and arced into the pond. (Normally it would take weeks of rehearsal to choreograph such a tricky move!) Teri tells me she never saw me move as fast as I did at that point. At first she thought I was about to dive into the pond after the camcorder (not a good idea since the pond was only about 18" deep). But I merely flung myself on the bank, reached down and retrieved the camcorder before it had fully settled into the silt at the bottom of the pond. <choke> I was miserable, though Teri was wonderfully consoling (it was her camcorder), assuring me she didn't really need the camcorder, it was old, she hadn't used it in years, and not to let it bother me. (Mind you now, she also had great fun teasing me about the incident the rest of the trip, so her heart isn't quite pure gold.)
I was sure the camcorder was dead. And I felt I was getting my just desserts. After all, I had chortled over Blair (of "Sentinels") being found dead and damp in a fountain in the final episode of that series. How fitting to be confronted with my own "dead and damp" lost "partner." But with Teri's support I managed not to let it ruin the vacation or dampen our fun.
And so we come to the ironic conclusion to the camcorder story. It wasn't dead. We could have been videotaping many of our adventures. I could have been spared much fretting and much teasing. But I was too miserable to try out the camcorder after it dried, sure it would only confirm my worst possible fears. It wasn't until I was home, and couldn't find an 8 mm camcorder to borrow to check out some early trip tapes I made that I was motivated to check Teri's camcorder. And it is working fine. Even the tape of the bloody duckpond that sank with the camcorder is fine. As a friend has told me, it is the stuff that Funniest Home Videos are made of.
Anyhow, back to our intrepid explorers, who are now strolling down the path to the sea and Winsprit quarry. Clad in cross trainers, I was a bit horrified by Judith's floppy sandals, but she assures me they are quite comfortable (though I noticed later that she did our rock climbing in bare feet :).
Winsprit was fantastic. The view was spectacular, and I was thrilled to be able to recognize the various caves, cliffs and settings that were seen in Blake's 7. I was breathing the air that our stalwart rebels had breathed. Standing where Vila had crouched while watching Tarrant "bat" a Federation guard into the crushing vat. Hopping about with almost the same agility that Dayna had demonstrated.
Soon Judith had Teri and me perched on the rock from which Tarrant, Vila and Dayna had teleported and snapped a picture of us. Then, while Teri rested, Judith and I explored the caves. It's lucky we didn't bring the water pistols that had been discussed as possible entertainment for the day. I'd have been at a decided disadvantage in a dark cave water battle as the "Phantom" on my t-shirt glowed in the dark. While I couldn't see Judith at all, she could easily spot me.
Proving that moms can do it too, Judith and I exited the caves via a climb over rocks that her boys had done in the past. I could have stayed there and clamored about all day, while flashing back to the rock climbing days of my youth, but our schedule demanded that we press on. (Judith has kindly offered me a return visit to the area, and I'm very much hoping to take her up on it.)
Next stop was Corfe Castle (the name of the town or the village, whichever it was--I never did learn the distinction town and village, and Teri and I took to calling all such locations "people places") and a tasty lunch in the courtyard of a small tea room. Corfe Castle is a very picturesque site, with buildings/houses all made from the local stone. Many of them have thatched roofs. Teri bought herself a trusty walking stick at a National Heritage site and was able to return the borrowed one to Judith. Then we marched up the hill to the ruins of Castle Corfe (as in a castle this time as opposed to a people place).
The ruins are fantastic, brooding almost, and the gusting wind on the hilltop added appropriate atmosphere to the dramatic setting. So gusty was the wind that I was expecting Judith to take off like a kite as her skirt puffed up (almost immodestly a few times ;-) and filled with air. Judith must have been hit with the same return-to-youth virus that was infecting me because she executed a somersault on the hillside on our way down.
Back to Judith's where we fetched her young sons from school and settled into some fannish diversions. (Not until after I was introduced to my first English bee, English garden and English sheep.) We drooled over her photos and albums, bought zines and watched some Gareth con videos that she had recently acquired from Australia.
Richard came in a bit later and we were able to thank him for his efforts on behalf of Judith's web pages. Then it was back to the station and a return to London. We did our second most frequent thing for dinner: get personal pizzas to go from a place near our hotel. They had a quite a variety of pizzas and I tried four them during the coming weeks. That night was "Florentine" with spinach and egg. We were treated to one intriguing "mystery" on our journey back to the hotel. There were handcuffs fastened to the overhead bar of the tube. Where had they come from? What were they used for? So it was with visions of Winsprit cliffs, ruined castles and people chained to tube cars that I went to bed that night.
Tuesday, June 23: A "quiet" day in London, which started off with my first visit to Harrods (I hadn't realized there was only ONE Harrods--I thought it was a department store chain--until I had coffee with Don Trower much later in the trip), which was mostly way too expensive for my budget. Then the half-price ticket booth, where I snagged a seat for the evening performance of "Starlight Express." For lunch we hit a Chinese buffet near Leicester Square. Not stupendous food, but certainly adequate, and it was a welcome change from eating on the run.
Next it was off to the British Museum. It's really big. I hadn't realized we'd get to touch the Rosetta Stone. Wow! A couple of hours of museuming later we were desperately thirsty and I asked one of the staff if there was a water fountain. The answer was No (what is this water fountain shortage in Britain?), but once again pity was taken on the visiting Yanks and we were directed to a water cooler that was only supposed to be used by restaurant customers. Nothing fannish to report from the museum except the nude male statues were quite scenic and got me to thinking about B7 male bodies. "That leg would work well on Vila."
My other fannish experience of the day happened at "Starlight." The one song sounded so-o-o familiar. My suspicious mind was about to accuse ALW of plagiarizing it when I realized why it was familiar--it's been filked. The song is the inspiration for "Call Me Delta" on the Hip Deep in Heroes filk tape. I should also make note of the bulging padded codpieces worn by male members of the cast, no doubt there to protect sensitive areas in the event of a high-speed collision with the set. I can't say I loved "Starlight Express." It was more reminiscent of an ice skating show than theatre. But for what I paid, the entertainment value per dollar ratio was quite acceptable. And some of the voices were exceptionally pleasing, especially the understudy who played Rusty that night (who was listed as having a background in opera).
Wednesday: Greeted by another rare burst of sun we made another change in our itinerary and decided to do Dover instead of Cardiff, catching the 7:05 train out of Victoria. Our charming conductor, Trevor, kindly stopped by and provided travelogues whenever we passed points of interest on the journey. (Except for one or two rare exceptions, everyone connected to the various British Rail services went above and beyond the call of duty in providing service to the two of us.) He also identified the beds of bright red flowers that we passed as poppies. I hadn't expected to see poppies as my only other experience with wild poppies was when I lived in California and they bloom in the spring there.
Given that Teri required a walking stick to get around, I decided to forego the rigorous uphill hike to Dover Castle and allowed that we could take a bus. (The fact that Teri would probably have beaten me with said walking stick if I hadn't agreed to the bus had nothing to do with my compassionate gesture.)
Standing guard over the most narrow point of the Channel crossing, Dover Castle has been described as "the key to the Kingdom." Its military history stretches from the Iron Age to present times. I'd like to particularly recommend the newly innovated tour of the Wartime Tunnels that includes a re-creation of what it was like in the tunnels during the evacuation of Dunkirk. "Journey through the labyrinth of passageways where lights will dim and the terrifying drone of bombers can be heard overhead." (You'd never get this in the US. They'd be afraid someone would trip and fall when the lights dimmed, leading to a lawsuit.) Part of the dramatization was following the story of a British pilot, downed in the Channel and brought to the underground hospital for treatment. That began with a short film clip that was done from the point of view of the pilot on a gurney, being raced through the tunnels to the operating theatre. Really neat, but the best part was yet to come.
We could swear that Steven Pacey did the voice over for the pilot and that Gareth Thomas did the voice over for the surgeon. It was uncanny. (Though Gareth later told Teri that it wasn't him.) The pilot first thinks he's lost his leg, then feeling returns and he is in great pain; meanwhile the surgeon doesn't tell him that his leg and life are in jeopardy. Who would have thought I would find B7 at Dover Castle?
I won't go into details of the other "touristy" parts of our trip to Dover except to note that it is a great place to visit. Heading home in late afternoon, I jumped the train at Canterbury. Teri had already been there an earlier trip and her body needed some resting, while I was still full of energy. Linking up with another solitary American tourist, we did a rush through the town, then toured the Cathedral and ended up staying for Evensong (scheduled because it was a feastday). The all male choir was breathtakingly beautiful. Some of them hit notes much higher than I can manage, making me briefly wonder if anything had been done to them in their youths.
I straggled home quite late again and picked up another pizza for dinner. And succumbed to my first Magnum bar, an almond one, in response to an ice cream craving that had been nagging at me all day. I was instantly addicted and might have lost tons of weight on the trip except for giving in to that weakness.
Thursday the 25th: I woke so early that I almost went to breakfast an hour before the restaurant area opened. I'd been up so long I thought it was 7:30 a.m., when Teri pointed out it was only 6:30 a.m. She seemed a bit grumbly (well, as grumbly as Teri gets, which isn't very). I have no idea why. And I'm sure her mumbling about "should have gotten two individual rooms with a shared bath" was entirely coincidental.
After a tedious, necessary trip to do laundry, we went to Westminster Abbey. Two churches in two days was a bit depressing--all of those crypts, effigies, memorials, etc. While I was glad to see the Abbey, I was equally happy when we escaped its oppressive confines.
Next, Dress Circle (a store specializing in theatre memorabilia) failed to produce anything related to performers from B7, and you can be sure that I thumbed through every box of dusty old play programs. A "quick" visit to a medical exhibit at The Wellcome Trust almost made me late for my matinee performance of Steven's play, but I managed to pant into the theatre five minutes before curtain time. I was pleased to see a good crowd in attendance. I'd decided to concentrate on clothes this time. I can now report that the socks Hamish wears to bed are argyle in nature: a grayish-green background with green, gray, and beige diamonds, as well as white stripes. Later, Hamish wears plain light beige socks.
Hamish's first "costume" consists of brown trousers, yellow turtleneck, and tweedish sportscoat. The sportscoat was nice, but Hamish's taste in clothes is generally as awful as Barbara infers. Next we saw blue jeans topped by a baggish sweater, which my notes tell me was gunmetalish gray in color. And speaking of baggish, the jeans were also loose fitting. :( Had they always been that way (poor choice of size?) or was the bagging a result of a weight loss? The blue jeans were very flattering to Hamish's long legs, but a snugger fit would have been appreciated. Other outfits (several items were mixed and recycled over the course of the play) included beige trousers (one of Hamish' more stylish garments), checked shirt, brown velour suit (yuck!), orange shirt, putrid salmon tie with flowers (tulips). Of particular curiosity was the brown belt he wore with the beige trousers. It appears to be of Blakian proportions, with five-six excess inches of length. I was surprised he could even wear it; normally holes for the buckle prong don't extend that far back.
Other items from my notes include:
Music is adroitly used to complement the dramatic tension, with the softness/loudness level matching the action on stage.
Very trim waist.
The ending is emotionally intense, due in great part to the skillful performances by Jane Asher and Steven Pacey. It could easily have been a fluffy final few moments after the dramatic conflict had been resolved.
Nic Best and Teri met me outside the theatre and Nic directed us to a fabulous Chinese restaurant just around the corner (or so) from the theatre. I should have known the Canton would be good when the only eating utensils provided were chopsticks. I've not had such delicious Chinese food since we lived in the SF Bay Area and regularly ate at non-touristy, hole-in-the-wall restaurants in San Francisco's Chinatown. We then went for a long walk--chatting away about B7, shows with B7 actors that Nic has seen, and non-B7 topics--with Nic pointing out various book and theatre stores that we might want to visit during daytime hours. After Nic and Teri had dessert at the Bean & Olive, we parted company, with plans to meet up again later in the trip.
Friday the 26th: We caught the 8:40 train out of Euston for Chester, where we would be spending the weekend with good friends Kevin and Fliss D. and meeting Val. I was again struck by British politeness when a voice over the train's intercom "sincerely apologizes for the early closing of the buffet and hope it doesn't cause too much inconvenience." In America we'd just get a factual notification of imminent buffet shutdown.
Chester is a delightful city, with well-preserved stone structures and buildings, including an almost complete wall walk around the city that dates (in part) back to the Roman occupation of Britain. We did the entire wall walk, stopping at each informative plaque and scenic viewing area along the way. (You'll note that Teri was still gallantly hobbling along, walking stick in hand, despite aches and injuries that would have crippled many a lesser person.) A used bookstore not only turned up a book I was looking for for a friend, but the helpful proprietor directed me to a Charity Shop where there were other books by the same author. (At which point I became enamored by Charity Shops--now these are prices I can afford. At one charity shop in Brighton I got a tape and two books and my total bill came to a mere 90 pence.)
With backpacks made much heavier by 4-5 books each, we made our way to the Fliss's house in late afternoon (when Kevin was due home from work). I was impressed that Teri remembered the way--she had only been there once before, well over a year earlier. And it's a tidy little walk to their house from the old section of Chester where we'd spent the day.
We found not only Kevin waiting to greet us, there were three different "urgent" messages telling us about Gareth's planned appearance at the Fab Cafe opening the next week, as well as two packages. Judith had sweetly sent along an audio tape for me and a video tape for Teri. And efficient Sarah had sent packets for different fans in hopes that they could provide additional information for her zine indexing project. We felt well liked and looked after to receive all of that unexpected attention. (Word of the camcorder sinking had also preceded us and became the source of much amusement over the weekend.)
Fliss arrived a short time later and gave us a tour of the house and garden, including their model room (Joy!). Kevin's models are exquisite and have been exhibited at conventions and used as props on several tv shows (such as interview shows with the Blake's 7 cast). The room is packed full of fantastic items, and it was with some trepidation that I received the news that I'd (as in the woman who dropped the camcorder) be sleeping in it for the next two nights, especially after I bumped into their railroad platform (fortunately it was a gentle bump and nothing was injured) almost as soon as I entered the model room. But I temporarily set those worries aside and feasted my eyes on Liberator, Scorpio, a Federation trooper's helmet, a Spacerat helmet (this one was a real prop as opposed to a model; the spacerat symbol was gone, but you could see the outline of where it had been), walls full of posters and pictures, and Orac. A working Orac, including Orac's special little turn-on noise (Kevin recorded it onto a small tape recorder which is buried in Orac's innards and activated by the key). The next items of most exciting interest were Kevin and Fliss's B7 costume collection. I was too awed to do more than look and brush my hands over them that day, so more on them in Sunday's report.
That evening, after a yummy dinner in a new pub (the generous space between the tables was most appreciated after the space-stingy restaurants in London), we watched football. England won. Hooray!
Eventually I settled onto the inflated mattress in the models room, staying as still as possible and keeping my arms tucked firmly by my sides, with Liberator not more than five inches from my left ear. The next morning I found out Kevin hadn't had a particularly restful night, as he kept expecting to hear a disastrous crash and clamor from my "bedroom." (And wasn't it sweet that he still let me sleep there?)
Saturday the 27th. We spent the morning browsing an antique fair, where I saw my only Britannia Bear (I looked everywhere for them for my nieces who collect Beanie Babies); it was priced at 275 pounds. Ouch! Needless to say, I did not buy it.
Then it was off to Jodrell Bank (radio telescopes, planetarium, hands-on exhibits). We didn't let a steady drizzle interfere with our planned picnic (not as hungry as we were!). We sat on a blanket-covered bench on the grounds and munched away on Fliss's delicious sandwiches. We quickly began to enjoy the experience and the ducks that came a begging. (Later we were quite happy that we hadn't realized we could have been eating in the dry indoors in the cafeteria, and refused to admit that it was ignorance alone that had us outdoors when someone walked by our sodden forms and told us about the indoor facility.)
I'm not sure where Kevin, Fliss, and Teri got off to after we entered the Jodrell facility, but I stayed in the hands-on exhibit area and fought off little kids for chances to play with all the toys. An elbow here and a glare there will work wonders. We also went to a presentation in the planetarium, but I have to admit that I slept through it, proving that even energetic me has exhaustion limits.
Back in Chester, Fliss went to the train station to get Val, Kevin and Teri relaxed, and I set off on a hike into town for pastries. I returned to find out there had been some confusion with Val's train. But before we could fret over that, Val and Fliss arrived. It was great to meet yet another "faceless" fan friend. Val had come bearing gifts (luscious art and a scrumptious Tarrant picture), which quickly endeared me to her (even if she is taller than I am and I like to be the tallest <wink>).
Fliss prepared a humongous dinner: grilled steak, lamb, chicken and hamburgers, monstrous jacket potatoes, cheeses, etc. It looked like enough for two armies, and that we managed to consume almost all of it astounded Teri and me. The potatoes were particularly wonderful. I've long suspected that flavor has been sacrificed for hardier species in regards to potatoes grown in America. These potatoes reinforced that notion. The taste was superb (and this from someone who does not defile potatoes with salt and/or butter).
We settled in for a delightfully B7ish evening, starting out by looking at a scrapbook and pictures that Fliss gave Val (and Val kindly shared Tarrant goodies from the loot with me). Then Teri gave Tarot readings for Val, Fliss and Kevin, using the gorgeous B7 Tarot deck her daughter and her daughter's SO had made for her. We also watched items from our hosts' video collection, all kinds of neat little B7 tidbits and interviews.
Sunday the 28th Val and I were early birds and got to have a long visit/chat before anyone else stirred.
The climactic part of the day came early, when I got intimately acquainted with some of the on-site B7 costumes. <sigh> Fliss had offered me the privilege of trying them on Friday evening, but I wasn't relaxed enough (would I tear them to bits?) to actually do it until Sunday. First I slid into Tarrant's late fourth season outfit. The tunic is not damaged, but the pants are the ripped ones from "Blake." (They had duplicates of each of the fourth season costumes.) Cloth that had touched "Tarrant's" skin was soon touching mine. Though it was a bit demoralizing to find that cloth snugly wrapped about my hips. Steven is way taller than I am, but not any bigger at the hips and only a tad bigger at the waist. We had guessed (Friday evening when looking at the costume) that his trouser measurements were probably 30" waist and 36" inseam. But based on the fit, I think the waist is 29" at the most.
The tunic includes a label that identifies it as a "Salmon original." It's fully lined with a white satiny material; the pants aren't lined. The buttons on the tunic are purely ornamental. Its fasteners include a velcro strip in the upper right and a hidden zipper. The pants had two hook and eye fasteners at the waist and a zipper. The bits of white trim about the waist double as belt loops (a clever design!).
Armed with Kevin's clipgun I posed for pictures. But since I was having a really bad hair day, I don't expect anyone will ever get to see them.
Next up was Avon's brown (close to rust in color) corduroy outfit from "Ultraworld." Give these trousers a 32" waist, 32" inseam. Avon is both slimmer and shorter than I had guessed. Most surprising were the bloody huge shoulder pads in the jacket. They would protect a football (American football) player. Was Avon wearing them to project a larger, tougher image? The inner label has Paul Darrow's name on it. The jacket is fully lined and has no fastenings (Avon holds it together with a belt on screen). The trousers are also lined and have one large hook and eye and a zipper. Both Avon's and Tarrant's trousers have elastic stirrups at the bottom. The jacket is trimmed with a fake leather, a material that resembles drapery fabric, and gold studs.
I again posed, this time with a Liberator gun and with Orac. What fun!
I did no more than put Soolin's belt to my waist when it came to the women's costumes. Her belt just went two-thirds the way around. She was a tiny woman. Costumes confirmed that both Cally and Dayna were also slender, and they were both tall as well, 5' 8-9". I hadn't realized Cally was that tall. Soolin was several inches shorter. Nor did I try on the red guard's jacket from "Gold" or Ro's purple jacket from "Horizon."
After a lovely walk around Chester, lunch, shopping and sad goodbyes, we saw Val on her way. We had one hour left before our train, and Kevin entertained us by drawing on his new computer. At first I thought he was doing a rendition of the sinking of the Titanic. (How naive of me.) It turned out to be the sinking of the camcorder (thanks, Kevin...NOT <g>), which he printed out and presented to Teri.
There was a snag in our journey back to London. A brake problem caused a two and a half hour delay in the middle of nowhere (Virgin trains lived up to their unreliable reputation), with the buffet selling out (except for a bag of crisps) before we realized we should have bought some food. But our hungry, dreary wait was made less tedious by the presence of a charming, adorable seat companion, a young man with no country (originally a Canadian but lost his citizenship because he hasn't been there for a couple of years) who is a budding screen writer.
The delay made for a late return, and it was another grocery store dinner for Teri and me.
The journey home from Chester had served as an educational experience, and our new motto of the day was: If the train stops in the middle of nowhere, go immediately to the buffet car and stock up on food.
Monday, June 29. This was a somewhat frustrating day. To begin with I had to make a dreaded trip to the laundromat, which wasn't open at 7 a.m., though the sign on the door indicated it should be. The attendant was there when I returned about 7:30.
Next on the agenda was shopping. I bought out the Nick Lea (he plays Krycek in X-Files) pictures at Hollywood Superstore and mailed them off to a Krycek-fan friend in the states; she was going to distribute the multiple copies to other Ratboy enthusiasts. Next it was off to the half-price ticket booth where Teri and I got tickets for the evening performance of "An Unexpected Man." We lunched at a Chinese buffet--not wonderful food, but it served to alleviate my severe case of veggie deprivation. Then we went our separate shopping ways. I can't say I was very successful. I thumbed through several book and theatre stores without finding anything I was looking for (memorabilia related to B7 performers or any of a long list of books). And two stores I wanted to check out completely eluded me. (Maybe they had taken up temporary residence in The Twilight Zone?) It felt like I walked every street within a five mile square of where they were supposed to be and couldn't find either of them. (Though I did get to see a lot of London that way.) Then Planet Hollywood didn't have any medium t-shirts that weren't white (scratch that possible gift for my youngest two children). And of course the tube had delays because of door problems. It was that kind of day. Until the evening...
I'm happy to report that "An Unexpected Man" was brilliant. It's a two-person, one act play about strangers who are sharing a train car. He's a cynical writer. She--unbeknownst to him--is his devoted fan, and is carrying his latest novel in her handbag. The play opens with us eavesdropping on the characters' thoughts. His thoughts fly off in seven different directions, but he's not so distracted that he isn't occasionally glancing at the attractive woman across from him, particularly at her legs. She is fretting over whether she should get out the book or even, gasp, speak to him. As bits and pieces of their personalities and pasts are revealed, we recognize that they are deliciously eccentric and charming, and learn that neither of them is currently attached to a significant other. Tension builds as the audience wonders whether they will ever say a word to each other and what will happen if they do. I could really empathize with the female character, plopped down in a train compartment with a celebrity figure. Caught in her position, I'd be as fretful and tongue tied as she was. (Would they be flattered to be acknowledged or would they prefer private anonymity?) Just as I was beginning to despair that their chance meeting would come to nought, she retrieved the book from her bag. He noticed it and started criticizing the author. She defended the author, then admitted she knew he was the author. Eventually, she even got the courage to tell him that she had long been madly in love with him. It's said lightly but with underlying intensity; he can take it as a serious declaration or as a frivolous affectation. The play ends with his response, a response that suggests (to me) that they might be getting to know each other quite a bit better after the curtain comes down.
Tuesday, June 30. We got an early start for Bath only to have our trained delayed twenty minutes because of sheep on the track! Which made us late getting to where we were meeting Ros Williams. But she ended up being delayed even longer than we were because of stopped traffic on the motorway. We had an absolutely splendid day with Ros, who drove us from Bath to Avebury to Stonehenge to Salisbury. We saw the Roman baths, walked around the town (even basement flats have gardens--in containers--in Bath!), paused to pay homage to the scenic River Avon (which Ros said is only one of many River Avons). Avebury and Stonehenge both feature ancient standing stones. Each has its own appeal. Stonehenge is smaller but also more complete, and carries a magic awe based on its eminence alone. But at Avebury you can walk among the stones and touch them, giving it a more intimate allure.
Wednesday, July 1. Since Teri was going to Manchester for the Fab Cafe opening, I was on my own. I decided to visit Brighton and set off at my usual early hour (leaving Teri in peace so she could go back to sleep). Arriving in Brighton well before anything was open, I was greeted by a fantastic view of the English Channel (the train station is located on top of a hill). There was no question about what I'd be doing with my "spare" time, I headed downhill for the beach. The beach is wonderfully unique. It's all pebbles; there isn't a grain of sand in sight. I fell in love with the pebbles. Most were mixed shades of beige-brown, but a few were a dazzling mix of black, gray and blue. I couldn't resist grabbing up a few for souvenirs. Thus started my British pebble collection. I probably could have spent all day at the beach, including a swim if I had had bathing apparel with me--the water was surprisingly warm. It was so peaceful and beautiful, especially that early in the morning when there were only 5-6 widely spread out people about. But after an hour of strolling, wading, and relaxing, I tore myself away for sightseeing and shopping.
The Royal Pavilion could easily have been an architectural nightmare, inside and out, with all of its extravagances. But both the outside facade that resembles the Taj Mahal and the ornate Chinese decor and furnishings came across as gorgeous, even tasteful, to me. I was sorry I wasn't there at tea time; their Queen Adelaide Tea Room had a lovely tea menu and the tables were scenically located on an upper balcony of the Pavilion. Next visit I'm doing tea there! I found lots of tempting buys in the used bookstores and charity shops of Brighton's Bohemian North Lanes. By the time I was hiking up the hill to the train station, my backpack was well weighted down with assorted books and tapes.
Back in London, I realized I had time to visit the Theatre Museum before my fourth trip to see "Things We Do for Love." While the exhibits and displays were all very enjoyable, the museum wasn't as B7ish as I had hoped. None of the plays in its archives featured any of the B7 cast. (I had at least hoped for "By Jeeves.") And its "Wall of Fame" (handprints and autographs of famous theatre people on the walls leading down to the lower level) only had Brian Croucher and Brian Blessed from B7 (that I could find). I'm beginning to think Pacey needs a publicity agent (or possibly he just needs to promote himself more). As often as he's starred in West End productions, including an Olivier nominated performance, I had really expected to find him on the Wall.
I just managed to squeeze in a trip back to our hotel to freshen up and change clothes before the play, and a lucky thing that was. I ended up sitting next to a Broadway producer, and my spiffy appearance gave me the confidence to disagree with just about everything she said. (If I had been a scruffy Brighton beach bum, I probably would have slouched down in my seat and avoided her.) We were each on our own and ended up conversing before the play and during intermission. My, but she was a cynical, profit-obsessed individual. She was in London to investigate the possibility of bringing a play over to New York. "Things" and "Unexpected Man" were two of the contenders. But she was very critical of both plays. Her criticisms encouraged me to examine each play more deeply in order to better defend them, so I guess I should be thankful that she exists and sat next to me. Mind you, if she had watched the play instead of watching her watch (one of her complaints was that "Things" was too long and too slow paced), she might have found the show more enjoyable. She said Americans would never "put up with" the play as it was. Meanwhile, she had also noted that it was mostly Americans in the theatre that evening. I delighted in pointing out to her that the American audience was loving the show. So much for her "expert" interpretation of Yankee tastes! While I'm doubtful she'll end up supporting either play, I did ask if she would bring over the British cast along with "Things." I wasn't surprised that she replied with a definite no. She doesn't know what she was missing; American B7 fans would have flocked to the theater to see Pacey. But that's her loss.
Was it coincidence or kismet that I spotted my first tube rat slithering along the tracks of the Piccadilly line on the way home that evening? Not that I'm comparing my theatre neighbor with a marauding rodent, but how any woman could fail to be moved by SP in that play... She should have been running up onto the stage attempting to sign him and the play to a long a New York run.
*I* was most certainly not blind to SP's assets. I had resolved ahead of time that I would focus on his legs this performance. And my notes of the evening report: "Much less skinny than I expected. Leanly defined musculature on both calves and thighs." I had often told myself I was probably better off not seeing more of Tarrant's legs than the bit of exposed thigh in "Blake," as I expected them to be unappealingly stork like. I couldn't have been more wrong. Other notes include: "back tapers down to wispy waist," "face turned really red (again) when Barbara 'bit' him." My seat that evening was in row C, which provided a better view of the upstairs flat, except you couldn't see the top of the bed as well. It was my best view (to date) of shoulders and arms, when Hamish is holding Barbara while she is bent backwards over the end of the bed.
Thursday, July 2. Teri, as planned, had spent the night in Manchester, so I didn't have to try to stay still and quiet when I woke up at my usual early hour. I spent a productive couple of hours organizing all my junk and getting various souvenir items stowed away in my suitcase. After the coffee-juice-toast hotel breakfast, I set off for Kensington Park. That would allow time for Teri to call and leave a message about when I might expect her back. If she woke in time for an early train, we planned to go to Windsor and Eton that day.
The park was about a ten minute brisk walk from our hotel. It was expectedly beautiful, full of flowers, meandering paths, scenic Serpentine and fountains. I took care not to miss the famous Peter Pan statue and also to check out every male leg I passed. I wanted to find out how Pacey's gorgeous gams compared to other male legs. My leg-spotting expedition served to tell me Pacey's legs are truly exceptional. I saw many dedicated male joggers of all ages, but I only saw one set of equally scenic legs. Those were on a man who couldn't have been more than 25. (It keeps coming back to the same thing: SP must have a portrait in his attic to keep him so young and fit. Either that or he's more into exercise and fitness than I'd ever heard.)
Much to my surprise, Teri was in our room when I returned. The group of fans in Manchester never got to bed. They stayed at the Fab Cafe until the wee hours of the morning, then went to dinner at a Chinese restaurant with Gareth. By the time they finished (after 4 a.m.), they decided it wasn't worth going back to Val's to sleep, and everyone headed out to catch their respective trains.
Teri decided she was stalwart enough to do Windsor-Eton on the bit of sleep she snatched on the train, so off we went. Windsor is an archetype of the castles that fairy tales are made of. It's elegant, spare lines and hilltop setting made it the perfect home for the knights in shining armor that decorate its rooms. Our favorite was "The Queen's Champion," an armored knight on horseback displayed above a grand staircase. And, yes, knights made me think of B7's gallant knight: Tarrant. Though all of the suits of armor we saw were much too short to fit his long body. Someone told me--I can't remember who--that one reason the displayed suits of armor appear so small is because they are often children's armor. Children outgrew armor quickly and thus their castaways were in better shape to exhibit than adult armor that saw more use. Windsor is also home to the magnificent "Queen Mary's dollhouse," four sides and four floors of dollhouse perfection. It even has running water! My favorite part was the garage, which featured "antique" cars, including a convertible, a bicycle, and a motorcycle with sidecar. Now if I could only shrink myself and move in!
Lest you think I was wearing rose-colored glasses that only allowed me to see the beautiful and the good in England, I should report that I found some insults to the eye at Windsor: the ghastly clocks and mantle decorations. I can only guess that they were gifts from a dignitary The Royals couldn't afford to offend or they would have ended up boxed away in an attic.
While Teri was noticeably flagging, we continued with our plans and headed over the bridge to Eton. She was moving at slower-than-snail's pace, I might add. Eton is, of course, the home to Eton College. We had already viewed its famous playing fields ("The battle of Waterloo was won in the playing fields of Eton," credited to the Duke of Wellington by Montalembert) from the walls of Windsor Castle. Now we were headed for the school buildings themselves. There was engaging window shopping along the way. One closed-for-vacation antique store had a teddy in the window that captured both of our hearts. It was battered and bruised, sporting stitches on its brow, shoulder and arm. <sniff> It reminded me of Tarrant on Gauda Prime, more than a bit under the weather.
The Chapel, an art exhibition and the Museum of Eton Life are the only parts of the school opened to the public. The chapel had memorials to many of the Eton boys who lost their lives in England's wars. It's not pleasant reading material, but I felt obligated to pay tribute to the loss and read the memorials, both out of respect for the young men and to acknowledge the pain their parents endured. (I did the same at the various military museums I visited, wanting to skip that harsh dose of reality but not being able to do it.) The art exhibit was a wonderful mood lifter, featuring works by Eton alumni, several of which depicted humorous incidents of Eton school days. It was amazingly quiet at Eton. That surprised me. From what we saw in the museum, real boys do attend the school and it was late in the day. I'd have expected some of them to be making noise. Maybe that flogging stool and switch we saw in the museum keeps them quiet and in line. ;-)
Wandering around Windsor and Eton, I kept running into flyers for a new musical version of A Tale of Two Cities that was playing at the Theatre Royal Windsor. It seemed like a long way to come for a play, but just before we boarded the train back to London I decided I couldn't miss the show. Sending a very tired Teri on her way, I sought out directions to the theatre, hiked over and bought a stalls ticket (only 16 pounds) for the following Tuesday. Which would be our last Tuesday in London. The trip, which had started out as if it would last forever, was suddenly rushing to its inevitable conclusion.
I was forever getting back to our hotel. I decided to take the direct train out of Riverside station rather than the train out of Central station that required changing at Slough (the route we had used to get there). Never ever do that. The "direct" train stops every five feet. It took over twice as long to return than it had to get there (even with the change at Slough). It was good I found that out then, as I would have to rush-rush back to London Tuesday after the play in order to get back before the tube stopped running.
Teri had had a nap and was rested by the time I returned. We decided to go out for a sit-down hot meal (a rarity), then return to our hotel for an early evening so we could pack for our trip to Yorkshire. Except that the best laid plans never work out... Every restaurant that Teri fancied, I vetoed. And vice versa. We walked for miles and started to grow a wee bit testy. Comments such as "Now I know how the Donner Party ended up eating each other" (they couldn't agree on a restaurant) began slipping from our normally temperate lips. But full hostilities (You eat where you want to eat and I'll do the same!) were averted when we hit on a pasta restaurant that suited both of us. Since the meals were first rate and not overly expensive, we resolved that the long search had been worthwhile. A friendship forged in the fires of near starvation can only be made stronger.
Friday, July 3. Long before we got to England, with the help of train schedule information provided by Chris, I had determined what trains we would take on the days we were meeting friends who had kindly offered to drive us about. It allowed us to arrange times/places to meet while we still had e-mail contact. What I hadn't taken into consideration, hadn't known before I got to England, was that the tubes do NOT run all night.
So it was that early Friday morning (5:40 a.m.) we were biting our nails at the Gloucester Tube Station waiting for the first Piccadilly Line train of the day (which had decided to be late), because we were scheduled to be on the 6:15 train out of King's Cross. The tube finally arrived, but we still had to travel clear across London (we were in the southwest; King's Cross is in the northeast), then go from tube to train station, find the right platform and board the train.
You can imagine the dueling monologues on the tube. "We should have taken a cab." "We'll make it." "We shouldn't even have tried to get a train out this early." "We can always call Chris and set a later meeting time if we miss the train." "Stop looking at your watch." "I'll run ahead and make them hold the train for you."
As with all of the stressful situations on our trip, this had a happy ending. We plopped on the train with ten minutes to spare and were soon winging our way north on the sleek Flying Scotsman. The switch at York couldn't have been smoother, and we pulled into Northallerton exactly on schedule, shortly after 9 a.m. A smiling Chris whisked us away to Betty's for breakfast.
For over a year (since Teri had attended a con with Chris in Harrogate) I'd been hearing sighs of "Betty's...rarebit" from a glassy-eyed Teri. I wondered if Chris had subjected her to some exotic form of brainwashing. Which put me on my guard as we entered the restaurant. But I immediately went from alert to whimpering when I came face to face with cases of the most exquisite pastries I had ever laid eyes on. The menu was equally enticing. As for the food... Betty's...rosti...Betty's...rosti.
Uh, where was I? With rosti and rarebit warming our bellies, we were well fortified for the day's adventures. Chris indulged my newly formed addiction for Charity Shops. We visited several before heading out for B7 Country, the place where early third season was about to come to life.
There it was, the hill Tarrant climbed in Volcano. No, no, maybe not. Maybe it's that one over there. Or that one. Or...AAhhh, scream, it's the little yellow flowers, the ones that were all over the ground where Tarrant and Dayna collapsed (when they were zapped with soma vapor by those nasty Obsidians).
"Little yellow flowers?" I'm pleased to report that Chris refrained from snickering over my ignorance when she identified them as the common buttercup. She even stopped the car where one isn't really allowed to stop the car so that I could dash out and take a picture of them. Though she probably knew they weren't nearly as rare as I imagined and that we'd be running into thousands of them throughout the day. One buttercup was soon pressed into a charity shop book as a souvenir. It's doing well. But I must sadly report the demise of the one I stuffed in my pocket.
Next stop was a reservoir, which we don't think was the reservoir in City at the Edge of the World, but one can't be sure. If it wasn't that one, it was one nearby. Fences prevented us from getting to the water's edge, but didn't hamper our imaginations. Wandering sheep, annoying swarms of bugs and lush greenery soon conspired to launch a story. It started with the premise that Blake was pretending to be a shepherd. The building on yonder hill was a Federation outpost. A new weapon was being developed on the planet. Tarrant and Vila were about to show up, following rumors of Blake. (Avon was on the ship, sleeping. What did you expect, we didn't have an Avon fan with us. <g>) The saga turned angst-ridden when we stopped at the Waterwheel Inn for a bit of liquid fortification. What Chris wanted to do with Tarrant and the bloody huge waterwheel... Well, let's just say I approved, as long as he survived the ordeal.
A half dozen witty lines and a couple of plot twists later, we decided Chris and I would have to write two different versions of the story. I simply couldn't turn the glove we'd seen on the road into Travis' arm. It didn't seem plausible that Travis' arm would fall off without him noticing or missing it. ;-)
Despite her still ailing lower extremities, Teri and her trusty walking stick accompanied us on the trek to Aysgarth Falls (upper, middle, lower, though we only visited two of them). The Little John-Robin Hood river fight scene in Robin Hood, Prince of Thieves was filmed at this very scenic location. I naturally had to dip my hand in the chilled water and gather another pebble for my collection, jotting a description of it into my trip book so that I'd know which pebble came from where when I got home.
The day continued with one breathtaking vista and picturesque hamlet after another. Herriot Country, the castle where Mary, Queen of Scots lived, a hike, a ride on a swing by a stream, etc. It was a full and tiring day. Not so tiring for Teri, who had been sneaking naps in the back seat and who had declined the hike through the sheep pasture. (She said she needed the back to stretch out her leg. Ha, it was to allow her to sleep without our driver noticing. But now I've snitched.)
Chris had made reservations for us at a B&B in the town of Helmsley, where most of the buildings are constructed of the local stone (very lovely!). We reported in to our landlady then all went off for a yummy dinner at another pasta restaurant.
Saturday, 4th of July! My clumsiness reasserted itself that morning when I was showing Teri the darling antique table in our room, and how a shelf pulled out of it. Pulled out but wouldn't push in. I was beginning to sweat when I finally eased it back into its proper place without destroying anything. Phew...
If all B&Bs are like this one, I want to stay in B&Bs my next trip. We had a large room with a sink and tea-making fixings. The bath was well appointed and we only shared it with a couple from southern England. The breakfast was fantastic. I couldn't begin to eat everything: four cereals (I discovered I love weetabix), juice, tea, coffee, granary toast, jams, eggs, bacon, sausage, fried bread, mushrooms and tomatoes. The breakfast room looked out on our hostess's beautiful garden. And American music (Aaron Copeland and Dixie) was playing on the radio in honor of the 4th of July. (I'm sure Britains celebrate that holiday as fervently as we do, since they are no doubt glad to be rid of us irksome colonists.)
Teri grumbled a bit that I'd asked for an "early" 8:00 am breakfast time (early for her; I'd been up for hours plotting my reservoir story), but it gave us a chance to roam the town before meeting Chris and her husband Rob (who was joining us for the day). By poking my nose at the window of a Charity Shop, I encouraged the proprietors to open up early so we could shop. I bought quite a bit, but my total bill was unbelievably tiny. One book I wanted was marked one pound, but they insisted they could only charge me 25p because it wasn't in good condition. (It's the opposite of Mexico where they raise the price when they hear American accents.) (And how do we get off identifying ourselves as Americans when the term should equally apply to the residents of many countries/two continents?)
Our kind tour guides soon pulled into town and we were off to the Moors. The Moors are stunning expanses of low-growing plants. We were there between major explosions of color (daffodils and heather), but that didn't diminish their beauty. We were standing on a hilltop (Blakey Ridge was its appropriate name) and in every direction stretched miles and miles of moor, dipping into shadowed valleys and flowing back up to suntipped hills. It makes you want to set out and walk forever. But we didn't have forever, so they made me get back in the car. Which was good, I'd have missed the scenic pub which was our next stop: rambling flowers, babbling brook (which Rob and I explored), and outdoor tables.
There is a British show called Heartbeat which Teri loves, so Chris had planned our itinerary to include the people place where it was filmed: Goathland, where the sheep have the run of the town. You find them everywhere, including in the middle of the road. We visited a crafts fair and walked to the steam rail station (but no train was there at the time), passed by a field where a cricket game was starting up, and saw the famous Heartbeat motorcycle. Teri bought Heartbeat books and vids. (What I noted from them suggests it is an entertaining show with a promising hunk quotient.) Then Teri settled on a bench to commune with the sheep while Rob, Chris and I hiked to a waterfall. The last part of the trek to the falls was not on a path, but was rather a scramble over rocks and boulders (made more difficult by crowds of other sightseers), it was just as well that Teri wasn't with us. I later regretted not going under the falls and getting wet. Because we took the long way home: up a hill, down a hill, up a hill. Which would have been fine except it grew pretty warm and I hadn't been drinking enough to hydrate me for a long hike. I was not moving very fast up the last incline. Which Teri would have said was a good thing--it gave me more time to appreciate the flora and fauna we were passing.
There was a definite need for hydration when we rejoined Teri (surprising her by arriving from the direction opposite of the way we left), who was actually talking to people instead of dogs or sheep. Our choice of "tea rooms" had yet another gorgeous garden area/pond where we sat at a picnic table. Out came a waiter with half of our order. I was left almost speechless by the two glasses of different colored beverages on his tray--they looked like warm, colored water, without a single ice cube in either of them. (Who ever heard of lemonade without ice cubes?) I was glad neither unappetizing drink was the orange juice I ordered. Then he told us why he only had two glasses-- they were out of orange juice. Nor did they have my other beverage of choice, sparkling water. I was resigned to waiting until the others had finished and getting some water at the grocery, except that a few minutes later he reappeared with two glasses of orange juice. We never did figure out how they conjured up that orange juice. It must be a British thing.
It was getting time to head for York (where we planned to get a train back to London). There was more fantastic scenery on the way, including the castle where Brideshead was filmed. (I'm not surprised that so many filmmakers take advantage of the splendid Yorkshire landscapes.) York looked very appealing--lots of charity shops--I've made a vow to visit there another trip. There aren't enough words to thank Chris and Rob for their many kindnesses, but we tried, along with some sniffy good-byes.
We were soon on a train and chugging "home." The only item of interest on the trip was the man in the shabby brown polyester suit rolling cigarettes on the tube. The fact that I was standing with a heavy pack on my back and he was taking up two seats (to accommodate his supplies) didn't seem to phase him. And he'd given me such a case of the creepies by the time he finally finished his cigarette project that I didn't want to sit in the now-vacated seat next to him.
It was another hummus, pita bread, orange, salt and vinegar crisps, magnum bar dinner for me. Teri tried to get a BaconDoubleCheeseburger at Burger King, but she ran into communication problems (are you sure we speak the same language?). First they gave her a beanburger, which she caught. She didn't think she'd have to check the second time and was pretty aggravated to find a plain hamburger in her bag when we got back to the room. Maybe that's why she spilled her milk all over the wall and floor. Or maybe it was memories of the uniformed soldiers in kilts who stood next to her at Burger King.
Sunday, July 5. I was all too aware of the fact that the trip was drawing to a close. There were only four days left and I didn't want to waste a minute of any them. We were scheduled to meet Nic Best at the escalator in Liverpool Station at 2 pm. Teri planned to shop until then, while I headed for Kew Gardens.
I had no idea how large Kew Gardens was until I was given a brochure/map at the entrance. I was momentarily stunned, realizing I'd only have time to see a mere fraction of the park. But refusing to be daunted, I set out, determined to cover as much as I could in the time available. I've long held a fondness for conservatories, and Kew has more than I'd ever seen clumped together in one location before. There were rain forest simulations that could be viewed at ground level or from skywalks, aquaria that featured aquatic plants, and The Princess of Wales conservatory that has exhibits of plant life from ten different climates. There was also an exhibit on the uses of plants (aside from a food source) that was most interesting. But what I most remember about Kew Gardens was something I happened upon while strolling one of the outdoor paths: an old brick ice storage house. The descriptive plaque explained it was built and used back when ice was a rare and valuable commodity. I couldn't help but mutter under my breath that ice still appears to be a rare and valuable commodity!
There turned out to be two escalators in Liverpool Station, but Nic and Teri managed to spot me before I began to fret over which one to stand by. I was embarrassed to be about five minutes late; it was a longer tube ride than I had anticipated.
Nic directed us to one of London's Sunday street markets, which was something both Teri and I had wanted to experience. It wasn't the famous Petticoat Lane Market, which is in the same vicinity, because Nic knew we wouldn't have time to do such a large market, but rather a more intimate one that still occupied us for a over an hour. It might have been called the Spitalfields Market, but I'm not positive about that.
I drooled over the furniture, which was reasonably priced by my standards (where most everything else in England appeared to be overpriced compared to the U.S.), and wished there had been a way to carry a piece or two home. (Maybe I could have done away with Teri and put a chest of drawers in her seat... <g>)
A short bus ride took us to the Geffrye Museum herb garden, one of Nic's favorite peaceful hideaways. It's a lovely sanctuary of serenity and beauty. I was inspired to buy an informational pamphlet on herbs that gave information on what herbs to use for aromatics, dyes, cooking, medicines, insecticides, cleansers, etc. If I ever get ambitious, I'll be able to grow my own herbal supermarket.
Next it was on to Nic's where she served us a scrumptious, stomach-stuffing tea: three kinds of sandwiches, pastry, scones, jams, and more. Nic had even thoughtfully made ice. I kept thinking we were done eating when she'd bring out another plate of food. It was lucky our next activity was sedentary--I wasn't in any shape for rigorous exercise.
Which brings us to Nic's extensive, exquisite B7 collection, which is hidden away in a room on the upper level of her flat. There are pictures, posters, play programs, etc. I'm especially envious of her collection of pictures of the B7ers in plays. I almost didn't recognize that lean fellow in the tall top hat (Steven as Phileas Fogg in the musical version of "Around the World in 80 Days"). The hat gave Steven's face a completely different look. Also of special note were pictures of Glynis with various shorter hairstyles than in B7--she is a remarkably gorgeous woman--and a bunch of interesting photos of Michael from different plays.
Nic also shared stories of some of her encounters with the B7ers. She was able to relate that Steven himself chose his ugly hairstyle and mustache for Blithe Spirit. He felt they suited the character. Tsk... Forget art and authenticity; I want beauty.
Teri had to return to our hotel to make some phone calls, so we walked her to the tube station (and I made note of the route for later), then it was back to Nic's for more of her collection. She inherited some B7 scrapbooks from Fliss and Kevin that included rare old newspaper articles about the series and cast. I lovingly examined all of them (I think there were 6-7). Another of her treasures is a hardback copy of The Program Guide which she's had autographed by many members of the B7 cast (regulars and guests) and crew. (What a clever idea!)
Around 9 I tore myself away and returned "home," well satisfied that I'd made good use of the entire day.
Monday, July 6. My plan for the morning was to go to the Tower Bridge (which I'd only seen from the doubledecker bus), make another stab at calling Don Trower (who works near the bridge), then head out to Greenwich. After strolling about the bridge, I called Don's office and actually got to talk to him! We made arrangements to meet at the Tower Monument. Only what I thought was the monument wasn't the monument, and it took another call to his office (and thankfully reaching someone who knew where Don was) for me to correct the mistake. Kind Don had been patiently waiting for me way past our appointed meeting time, and he whisked me off for a delicious iced latte (probably the best "coffee" I had in England). We ended up having a lovely, long chat and I never did make it to Greenwich (next time!). It was Don who shared the axiom "Americans think 200 years is a long time; British think 200 miles is a long distance" with me.
I started the afternoon with a visit to the British Army Museum. One of the highlight exhibits was a detailed filmstrip on the battle of Waterloo. At one point, the British line held still, when the French were expecting them to charge, so long that the French became nervous and panicked when the actual attack began.
Supplied with more detailed directions from Nic, I was finally able to locate the two stores that had eluded me the week before. Alas, all that effort and neither shop had any of the items I was looking for.
That evening was my next-to-the-last trip to see Things We Do for Love. Of note that evening was Steven's moment of clumsiness. (With Teri later deciding that my clumsiness had ended up contagious--causing her milk spill two evenings before and Steven's fumble.) When he went to set his sherry glass on the coffeetable, he was a bit too rough and it broke. Steven quickly inserted an appropriate apology before moving on to Hamish's next lines. Then Jane Asher alluded to the accident a moment later when she added "when you aren't breaking my glasses" to one of her biting comments. I was quite impressed with how agilely they both managed that break in routine.
Tuesday, July 7. Teri was off to Scotland for an overnight visit to Gareth and his wife Linda's house. They'd kindly included me in the invitation, but I had my ticket for the theatre in Windsor that evening. Meanwhile, I had resolved I needed a day away from London crowds. But where to go? After much vacillation, I decided it was best to head in the direction of Windsor, so that if I was running late I could go there directly (without passing through London) in the evening. That ruled out my first choice, the Isle of Wight (another place to visit next trip!), and instead I headed off to the northwest for Royal Leamington Spa. I had to change trains at Oxford and thought I might wile away part of the day there, but the town looked terribly uninviting from the train platform, especially with the gray pall of clouds overhead, so I made a quick exit. Happily, the sun came out when I reached Leamington. While the spas themselves are closed for massive renovations (which I hadn't realized), I spent a pleasant couple of hours on a self-guided walking tour of the charming town and gorgeous Jephson Gardens.
Deciding I just had time for a quick visit to Stratford-on- Avon, I hurried back to the train station and was off. It really was cutting it close. A bus tour of Shakespeare sites and a walk around town later, I was beginning to fret about getting to Windsor in time for the play. One slowed train or missed connection (I had to change trains twice) would do me in. My first item of business on boarding train number one was to check with the train engineer (the only official type person I could find--Stratford is a deserted stop on Britain's rail system--the station wasn't even manned while I was there) about what I thought I needed to do on the return. He confirmed my itinerary and even chased me down in Reading (where I was changing trains) to make sure I was on the right platform. Those train workers are an exceptionally conscientious and helpful group.
Each connection was smooth and timely and I ended up getting to Windsor with time to spare, allowing me to indulge in another rare sit down meal. My Thai restaurant of choice had efficient service (something I'd found lacking in some British restaurants) as well as delicious food, and I arrived at the theatre early enough to check out the photo collages of past performances that filled every spare inch of wall space in the hallways. I'd hope to see pictures of Steven, since I knew he had done work at Windsor. No such luck, but I did run into pictures of Gareth from when he did Educating Rita there in May 1983. (Probably at about the same time Gareth was telling Teri he had been in ER in Windsor, when they were talking about where I was spending the evening.) (Teri later scolded me for not "misplacing" the framed collage in my backpack. It had five 8x10 pictures in it, so you can imagine the size of the object she wanted me to "accidentally" stroll off with.)
The play was the new musical version of "A Tale of Two Cities." It was enjoyable but far from West End material. And while most of the cast was excellent, I was disappointed with the performance of the actor playing Sydney Carton. He seemed much too witty and urbane to be a believable rake. Also, Carton and Darnay were so unalike (different heights, builds, hair color, and 20 years difference in age) that the cases of mistaken identity took on an amusing quality that detracted from the flow of dramatic material. But I'm glad I saw it. It was definitely worth the effort.
I'd been tad concerned about getting back to London before the tubes stopped running, but timely train connections returned me to Paddington well before the witching hour.
Wednesday and Thursday, July 8 & 9. Because I was scheduled to visit with Diane Gies that day, she and I had worked out an itinerary that would allow me to visit the RAF Museum in Hendon before meeting with her. Yet again I hadn't allowed enough time for what proved to be spacious aircraft halls and multiple exhibition galleries. I managed a thorough tour of the birth of aviation and the history of the RAF, but had to rush through the aircraft display (there have to be over 50 planes on exhibit) and the Battle of Britain Experience. I did manage to linger over the section on pilot battle fatigue during WWI and II (a problem that was so acute in both wars that almost all pilots were at least minimally affected). Many pilots were so on edge that they became ill and nauseous whenever the order to scramble sounded in their barracks. And many of them ended up "flying happy," a term used to describe strain that led to excessive bravado and carelessness in the air. (More material for future stories there!) Much to my dismay, a school tour group was monopolizing the flight simulator, which I had really wanted to experience. I should have done that first thing! :(
It was another B7 afternoon. Diane met me in the museum's parking lot. She'd hauled along a ton of Horizon merchandise and photographs, and we sat in the back of her station wagon and sifted through the glut of treasures for over thirty minutes. I managed to find several nice souvenirs to bring home. We had a delicious lunch in an Oriental restaurant, then Diane indulged my penchant for used bookstores and charity shops. We went to a good half dozen she knew about. I was glad to see that Diane was enjoying the shops as well; she even ended up buying more books than I did. Diane also took me on a tour of some posh London suburbs. I saw a couple of houses that I could be quite comfortable in. <g>
I hadn't expected to go back to Diane's (which was why she hauled along all the goodies), but she twisted my arm. IOW, I can't resist pawing through people's B7 collections. It's pretty obvious who Diane's favorite character is. She's got a larger- than-life size poster from Guards! Guards! adorning one wall. We had drinks (of the non-alcoholic variety), melon, more stories and more goody browsing, as well as a browse through her younger daughter's "shopping mall," which I'm told is the in toy for young British ladies. (I could picture Dayna with one of these, making up for not being able to experience the real thing.)
Then it was back to Gloucester Rd., change clothes, and race off to the theatre. I just skidded into the lobby at 8 pm. If previous experience hadn't taught me that the play never started before 8:10 pm, I'd have been in a real panic.
Weeks earlier, I'd purchased a seat for the first row for this performance not realizing that people seldom sit in the first row at plays in England. I was more than a bit worried that I'd be all alone up there, in full view of the cast. So it was with much relief that I spotted a sizable group in Row A for this performance. Phew...
Aside from practically putting me on the sofa in Barbara's living room, the front row provided an interestingly different perspective on the bedroom scene. While I couldn't see on top of the bed very well, I could see all of Hamish, from toes to curls, while he stripped off his clothes. And that view was very worthwhile; I'm glad I didn't miss it. Seeing the shirt removed this close up was also quite...uh...memorable.
There was a good crowd for this performance--which may explain why the first row had occupants--and the rousing applause along with this being my last night in London spotted goosebumps on my arms. I drifted out of the theatre into a drizzling rain, trying to inhale sights and memories to where they'd be permanently implanted in my brain.
The crowd of rioting French students in Piccadilly (they'd won the semi-final in the World Cup that evening)...
The bobbies trying to clear the intersection...
The same wandering young blond male beggar we'd seen before in the tube... (Like he didn't look fit enough to work!)
And that's it.
Teri was waiting for me back at the hotel. We exchanged stories of our adventures while packing. And blubbered a bit about not wanting to leave. Aside from being requested to open my luggage on both ends of the trip on the way home (do I look like a terrorist?), everything was pretty routine. By early Thursday evening I was back in my own house and feeling completely disoriented.
No crowds... no tube... no theatre... sniff...
But so many wonderful memories of places, people, adventures and friends. I can honestly say that everything I did/every cent I spent was worthwhile. There's nothing I would have missed and nothing I'd have done differently. Except to have somehow conjured up a longer trip.
---
Back to Conventions