Redemption '01 - Nicola Collie
(Most Photo's are Nicola's)

First of all, I must admit to being a little taken aback at the low traffic on FC last weekend. Surely we weren't *all* at Redemption?!

Anyway, here follows my impressions of my second ever con, and my second ever Redemption. Thinking back, it seems I spent even less time than in '99 paying any attention to the guests, gravitating more towards fellow fans and associated activities.
Friday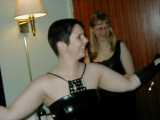 Sometime around lunchtime I hopped the Cambridge-Kings Cross train, and thence to Charing Cross and Ashford, arriving mid afternoon. Registration and much hugging of friends later, we were in the bar, and I discovered that Fifitrix wanted to exercise her couture skills on me in the chaos costuming session the following day. Must have been the 'supreme' hairdo I was sporting. Some food was ordered and consumed, and then to the opening ceremony and pub quiz. Later, I got all black and shiny for the FC room party. Many thanks to our lovely hostess Rita, and also to everyone who made kind remarks about my outfit. What a lot of cameras.... I think the hotel bar featured later in the evening, then bed bright and early at around 2am.
Saturday

Breakfast - as in '99, large quantities of caffeine and deep-fried cholesterol. As in '99, yet another chance to meet up and gab. Chaos costuming - not as busy as I had expected - Fifitrix whipped up a gorgeous black'n'silver number for me to wear in the fancy dress later on. It's amazing what you can do with the right fabric and a pack of sticky-back velcro.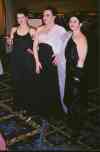 A little time now to socialise, enjoy the hall costumes and hit the dealers' room for a few zines to while away the first stewarding stint of the weekend. Soon it was time to prepare for the fancy dress, grabbing a bite of dinner along the way.
I modelled the chez Fi 2-hour Servalan to palpable appreciation (I love you all!). A lovely pile of Drazi points appeared later in the evening - just as well Fi and I were on the same team, as I probably would have felt obliged to share them otherwise ;) The cabaret was eclectic, as ever, with two excellent bellydance routines, the obligatory lip-synch numbers by David "Servalan" Walsh, some clever filks by Steve and Fi, and a brilliant 'Big Brother'-inspired take on B7 by the inestimable Reduced Blake's 7 Company. Oh, and some sort of Narn-Centauri alliance was forged as well.


A swift change into gold sequins for the disco, and the remainder of the evening was spent in a pleasant blend of boogieing and yakking, with a Wobblevision intermission in the middle. We did Shadow, everyone had a hysterical time, and I'm sure a fuller account of the production will be on Emma's site in due course. Like everyone else, I have to mention Michael Sheard's cruelty to moondisks. The young lady playing Cally was giggling/shaking so hard it took me ages to place them all, so I was in no hurry to tell our guest that they'd been sitting in a box of dirt for the last half hour ;)
Bed circa 2am
Sunday
breakfast - a repeat of yesterday, plus snow.

More gabbing and another hour stewarding, then off to the Ruler of the Universe hustings. The Mounties looked gorgeous! I cast my vote with some trepidation, as the Florida system was in force.
Time now to join Eddie, Ivan and Sacha for the One-season wonders panel. A lively discussion developed, concerning the merits of shows such as StarCops, Space: Above and Beyond and many others, and the dubious legitimacy of many television network executives. Proceedings were interrupted at one point by Michael Sheard's section of Federation troopers, who wished to demonstrate their new-found parade skills to our audience. Well, who wouldn't?
Closing ceremony, then: A second panel, this time with Una and Fifitrix - "What's wrong with wobbly sets?" We discovered that none of us seasoned viewers could actually remember if we noticed the sets wobbling during our first viewing of B7, but fortunately one of the audience had brought an expert witness in the shape of his young son, who had just discovered the show. He said he hadn't noticed them, either, so we were able to drop the subject and natter on about what we *had* noticed until it was time to catch the end of the stewards' party.
Next up, the slash debate. Some interesting points raised by all parties, and on the whole the session went amicably, thanks to Judith's excellent moderation of the discussion. What was that bird in pink on, though?
Many of the attendees were leaving by this time, and sadly it was starting to feel as though the con was truly over. Food, drink, and yakking was the order of the remainder of the evening, and another late night followed.
Monday
A quiet morning, with more breakfast and more goodbyes. A small group of us journeyed together to Ashford International station, London and onwards to Cambridge, still filled with Redemption spirit. A pleasant way to ease back into the real world.

Nicola
---
Back to the other Redemption '01 Reports