Blake's XI v Babylon XI Cricket Report
By Harriet Monkhouse.

BLAKE'S XI v BABYLON XI
At Outer Galle,
February 24, 25, 2262.
Babylon XI won by three wickets.
Toss: Blake's XI.

The teams resumed for their biennial match under the walls of the picturesque Federation fort at Outer Galle. After Sinclair called incorrectly, Blake chose to bat on a pitch which was to display unexpected signs of seismic activity. But the rebels made a confident start. Tarrant hit three successive boundaries off Ivanova's opening over and had raised 45 in ten overs with Jenna when he attempted to keep the strike by taking a sharp single off the final ball. Lennier's swift return to Kosh from deep extra cover saw him stranded. Zen soon followed, crashing into his own stumps as he attempted to drive Marcus, and the introduction of Lennier's leg-spin for the following over saw Blake and Gan perish within four balls. Avon was determined to take on the slow bowlers, cracking 27 in 15 balls, including four fours and a six, off Lennier and Garibaldi. But overconfidence undid him when he trod on his wicket attempting a hook, and gave Lennier his third victim. Orac lasted a mere seven balls, without scoring, as Garibaldi's off- breaks removed him and Soolin in quick succession. All the while, however, Jenna had been scoring steadily, and almost unnoticed, at the other end. She now completed her third fifty in three innings against Babylon XI. Fatally, she seemed to relax, and Lennier trapped her lbw. The score was 143 for eight, but Dayna, given a life early on, supervised the tail to good effect, adding a further 38 runs with the support of Cally and then Vila. Cally was finally caught off Lennier after failing to read his googly, and Vila, who looked highly alarmed when he saw Ivanova measuring out her run-up, perished when she quickly retrieved the ball and threw down the stumps as he dashed for the safety of the other end.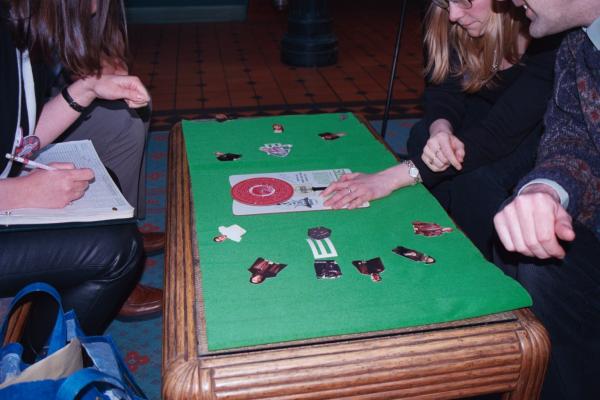 Newly-weds Londo Mollari and G'Kar made their way to the middle to begin the Babylonians' reply. But Londo seemed quite intoxicated with excitement. He took a risky second run off Soolin's first delivery, despite G'Kar's agitated cries of "One's enough!", edged the second for four, and was comprehensively pinned in front of his stumps by the third. G'Kar lasted a little longer but, apparently distracted by the loss of his partner, was run out by Orac as he wandered out of his crease. This brought Delenn in to join her husband Sheridan, who was already engaged in a tense battle with Dayna. She thought that she had had him caught behind in her second over; umpire Martok turned down the appeal. In her next over, Vila claimed a catch at backward point; but as Dayna hugged him, Martok pronounced that it was a bump ball. Two overs later, Sheridan pushed the ball back to her and she dived forward to take a spectacular catch off her own bowling; but Martok announced that he was uncertain as to whether it had carried and signalled for the third umpire, Brunt, to review the vistape. When the green laser shone out, Dayna exchanged heated words with both Sheridan and Martok, and had to be steered away by Blake and Cally. She was later reprimanded by referee Scarlet for her dissent. But in the twelfth over, she had her revenge, as she sprang to her right to make another remarkable return catch. This time, there was no doubt, and though Martok turned down her loud lbw appeal against Sinclair four balls later she restricted herself to a hard stare. Soon after, she was replaced by Cally, whose second ball tempted Delenn to pull to the long-leg boundary, where she was caught by Tarrant. Marcus now arrived to support the chief Ranger, and they shared the most productive partnership of the innings, 43 in 50 balls, until Cally had Marcus caught at second slip. Ivanova blazed briefly until removed by Vila, Kosh was out-thought by Cally, and Garibaldi was lbw when Dayna started her second spell from the other end. But Sinclair, playing a true captain's innings, reached his half- century under the floodlights. He was last out in the final over of the day, stumped by Orac, who mimicked Federation wicket-keeper Jarriere by daringly standing up to Soolin's pace.
Blake's XI led by 23 on first innings, and Tarrant was in a hurry to extend that when they resumed, lofting Lyta's first ball for six. But Ivanova shattered his stumps with her second delivery, and dismissed Jenna in identical fashion at the end of the same over. Zen and Gan lasted little longer than they did the previous day, and Avon was caught by G'Kar at third slip. Blake held firm and, with Orac's help, furthered his team's cause in a stand of 36 in just five overs, striking Marcus for six. At 80 for five, a lead of 103, Blake's XI held the advantage. Then Marcus bowled a most dramatic over. His second ball trapped Blake, who left muttering something about an auction; the third bowled Soolin's leg stump; and the fifth saw Dayna caught by Garibaldi at deep mid-on. This triple-wicket maiden left them on 80 for eight, and seven runs later Orac became Lennier's seventh victim of the match. But an extraordinary last stand between Cally and Vila revived the rebels' hopes. Vila started cautiously, first observing Lennier's wily bowling, and then, having worked it out, batted so well that he hit four fours, cheered on by Cally; they added 46 in nine overs before he was finally caught at first slip.
That left the Babylonians a target of 157, and they made the worst possible start when Londo, after weaving his erratic way to the wicket, was bowled second ball by Soolin. She swiftly added the First Couple of the Interstellar Alliance to her haul, and when Dayna bowled Sinclair for a duck the score was a dismal 40 for four. G'Kar, however, pausing from time to time to glare reproachfully at the team balcony, where Londo's crest was just visible, had scored 31 of those, and continued to hit out with great strength and determination. He looked in trouble only during a deadly maiden over from Soolin, who believed he was lbw to its third ball, and gave umpire Dukat an icy look when he turned down her appeal. G'Kar had smashed two sixes and five fours when he was bowled by Avon for 60, the highest score of the match. Still, at 85 for six, with 72 required, the odds were against his team-mates. Ivanova and Kosh combined to great effect, however, hitting Avon out of the attack when they took 14 runs off his fourth over. Vila replaced him, and seemed to have Ivanova plumb lbw with his very first ball. Bizarrely, umpire Martok referred the decision to Brunt, although the regulations of the Intergalactic Cricket Council made no provision for such a referral. Liquidator Brunt's smirk could be seen illuminated in the green laser, and Vila never regained his composure, losing his line and length entirely. Cally ended Ivanova's charge at last, with 20 runs required, whereupon Soolin and Dayna returned in an attempt to blast out the final three wickets. But Garibaldi lashed out for a couple of fours and Kosh glided the winning runs.
Called upon to adjudicate the Player of the Match, Seven of Nine, stating that impartiality was irrelevant, pronounced herself most impressed by Marcus's feat of three wickets in four balls, regretting only that he had missed the perfection of a hat-trick. Babylonian captain Sinclair hailed his team's efforts in squaring the series at 1-1, and looked forward to the decider in 2264. Blake agreed, adding that he was confident of winning the series at that date. Asked to comment on the umpiring controversies of the match just completed, he said only that he would be making his own report to the Intergalactic Cricket Council; he insisted that he was proud of his players' performances and their dignity in defeat, though he had to speak up to be heard over the shouting from the dressing-room.
Man of the Match: Marcus Cole (adjudicated by Seven of Nine).
Close of play: Blake's XI 181, Babylon XI 158.
Blake's XI
Tarrant run out (Lennier/Kosh)
28
-b S. Ivanova
9
Jenna lbw b Lennier
51
-b S. Ivanova
0
Zen hit wkt b M. Cole
4
-lbw b L. Alexander
6
*Blake b Lennier
4
-lbw b M. Cole
30
Gan lbw b Lennier
4
-c and b S. Ivanova
5
Avon hit wkt b Lennier
27
-c G'Kar b Lennier
7
+Orac b M. Garibaldi
0
-lbw b Lennier
13
Soolin c Kosh b M. Garibaldi
6
-b M. Cole
0
Dayna not out
20
-c M. Garibaldi b M. Cole
0
Cally c S. Ivanova b Lennier
19
-not out
23
Vila run out (S. Ivanova)
3
-c J. Sinclair b S. Ivanova
25
B 13, l-b 2
15
B 5, l-b 4, w 5, n-b 1
15
1/45 2/57 3/62 4/66 5/116 6/131 7/137 8/143 9/169
181
1/9 2/10 3/20 4/35 5/44 6/80 7/80 8/80 9/87
133
Bowling: First Innings-L. Alexander 8-1-31-0; S. Ivanova 3.1-0-20-0; M. Cole 4-1-18-1; Lennier 10-1-58-5; M. Garibaldi 7-1-39-2. Second Innings- L. Alexander 5-0-24-1; S. Ivanova 7-0-33-4; Lennier 9-1-43-2; M. Cole 7- 2-24-3.
Babylon XI
L. Mollari lbw b Soolin
6
-(2) b Soolin
0
G'Kar run out (Orac)
12
-(1) b Avon
60
J. Sheridan c and b Dayna
14
-b Soolin
5
Delenn c Tarrant b Cally
16
-lbw b Soolin
1
*J. Sinclair st Orac b Soolin
54
-b Dayna
0
M. Cole c Blake b Cally
26
-run out (Orac)
10
S. Ivanova c Zen b Vila
10
-lbw b Cally
29
+Kosh Naranek lbw b Cally
0
-not out
26
M. Garibaldi lbw b Dayna
6
-not out
11
Lennier c Orac b Dayna
1
L. Alexander not out
1
B 6, l-b 3, n-b 3
12
B 2, l-b 8, w 5
15
1/6 2/19 3/48 4/65 5/108 6/119 7/128 8/139 9/156
158
1/1 2/31 3/35 (7 wkts) 4/40 5/66 6/85 7/137
157
Bowling: First Innings-Soolin 6-0-31-2; Dayna 10-4-28-3; Avon 5-1-16-0; Cally 9-0-43-3; Vila 4-0-31-1. Second Innings-Soolin 7.4-1-31-3; Dayna 6-1-29-1; Avon 4-0-32-1; Cally 6-0-38-1; Vila 2-0-17-0.
Umpires: Gul Dukat and General Martok.
Third umpire: Liquidator Brunt.
Referee: Captain Scarlet.
Scorer: Marisu.
STOP PRESS
As the teams returned to their ships, an ashen-faced Captain Scarlet refused to comment on rumours that the umpire calling himself "General Martok" was in fact a changeling impostor, even though a large bird was circling overhead shouting "Ha! Ha! Fooled you all!" Nor was he able to say whether the Intergalactic Cricket Council would overturn the game's result if match-fixing by Dominion agents were proved.
---
Back to the other Redemption '01 Reports